Thousands of workers rally in New Delhi for 'biggest labor march in decades'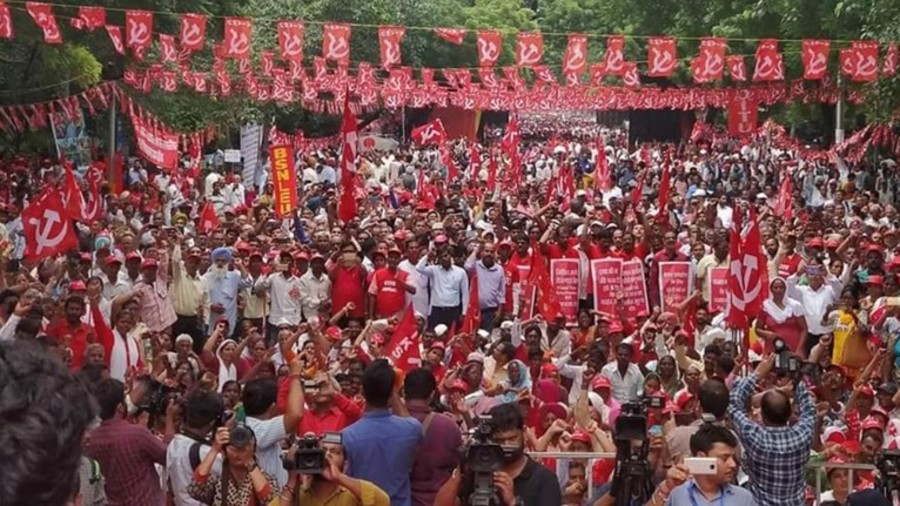 Thousands of workers and farmers from different states in India are marching to New Delhi on Wednesday to protest the government's "anti-people" policies and call for labor concessions, ranging from fair wages to debt waivers.
In what the Communist Party of India (CPI) branded the "biggest rally of the working people that Delhi has seen in decades," workers are rallying outside Parliament Square to demand the effective implementation of labor laws.
People from different areas started flocking to the capital on Tuesday and camped at Ramlila Maidan before marching to Parliament against the government's policies, which they branded the "common enemy" as they only profit big corporations.
"This government's policies are beneficial to corporates and not the people. We want the government to change its policies," Hannah Mollah, general secretary at one of the organizing groups, All India Kisan Sabha (AIKS), told reporters.
The Mazdoor Kisan Sangharsh rally was organized by groups affiliated to CPI(M), Centre of Indian Trade Unions (CITU), All India Kisan Sabha (AIKS) and All India Agriculture Workers Union (AIAWU).
AIKS president Ashok Dhawale said many of those attending weren't linked to his organisation, but they had nonetheless come to Delhi as they were "victims of government's anti-people policies."
The protestors' list of 15 demands range from curbing prices rises and implementing a minimum wage, to debt waivers.
Workers will also ask Prime Minister Narendra Modi's Bharatiya Janata Party (BJP) government to boost employment and ensure that the minimum wage is no less than ₹18,000 ($250) per month. Protesters are also expected voice demands for the universalization of the Public Distribution programme, which aims to give subsidized food and non-food items to the country's poorest, and the banning of labor law amendments.
CITU general secretary Tapan Sen said the protest will "intensify" if the government fails to listen to the crowd's demand, Indian TV news channel ZEE reports.
If you like this story, share it with a friend!