Child rapists face death in India after lawmakers toughen penalties for sex offenders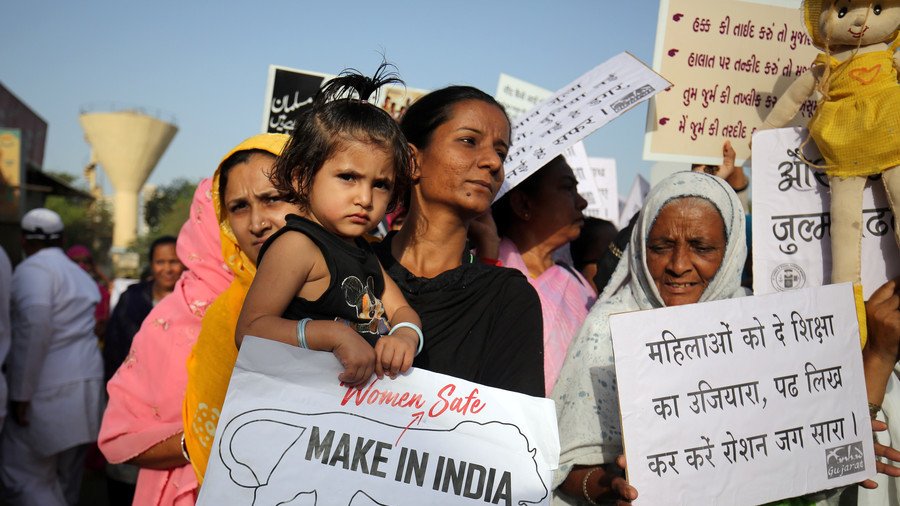 India's parliament has toughened penalties for sex offenses and gang rapes, with brutal attacks against minors younger than 12 now becoming punishable by death, or at the very least 20 years behind bars.
Amid public outcry over the brutality of sex crimes and gang rapes that had been sending shockwaves across India, the government had already changed the criminal law relating to sexual assault back in April. However, further cases involving the rape and murder of minors forced the parliament to adopt an amended version of the Criminal Law Bill 2018.
With the approved changes to several provisions of the Indian Penal Code (IPC) and the Protection of Children from Sexual Offences (POCSO) Act, anyone found guilty of raping a girl younger than 12 can now be sentenced to death, or life imprisonment.
"Whoever commits rape on a woman under 12 years of age shall be punished with rigorous imprisonment for a term which shall not be less than 20 years, but which may extend to imprisonment for life, which shall mean imprisonment for the remainder of that person's natural life, and with fine or with death,"reads the new text of section 376A of the Penal Code.
Under the new amendments, a perpetrator convicted of raping a woman faces at least 10 years in jail, up from seven years previously provided for by law. The rape of a girl under 16 will be punished by at least 20 years in prison, and as much as life imprisonment.
In addition to introducing stricter penalties, amendments passed to the Code of Criminal Procedure mandate authorities to complete investigations of rape cases within two months. Furthermore, anyone accused of raping minors can no longer be granted anticipatory bail during the trial.
India is struggling with a shocking rate of sexual assaults, despite the government's struggle to contain the crisis. Some 106 rapes occurred on daily basis in the country in 2016, National Crime Records Bureau statistics showed. In 94.6 percent of 38,947 reported cases, sexual assault was conducted by males known to the female victims, such as neighbors, family members, or co-workers. Another 2,116 cases involved the rape of girls who were younger than 12. New Delhi and Mumbai remain the hotspots of sexual crimes against women in India.
Think your friends would be interested? Share this story!
You can share this story on social media: