Iraqi protesters break into Russian Lukoil-managed facility, briefly take employees hostage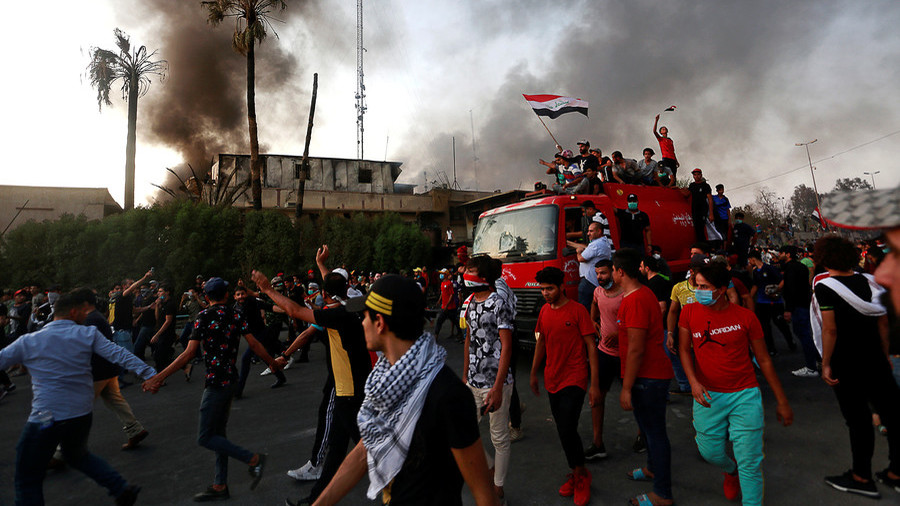 The protests that turned into riots in Iraq's Basra have spilled out into the nearby oilfield, in which Russian oil giant Lukoil is a major stakeholder. Protesters stormed it and took two hostages, later freeing them unharmed.
The crowd forced its way into a water treatment facility linked to the West Qurna-2 oilfield managed by Lukoil, a source within the Russian energy company and local police source told Reuters. The protesters took two local employees hostage. However, less than an hour later the agency reported that the protesters left the facility peacefully and set both employees free.
No Lukoil employees were injured in the incident, a source told Russian news agency RIA Novosti.
This comes as the Iraqi government has reportedly imposed a state of emergency in the Basra province in connection with the riots.
Located 65 kilometers north-west of the southern city of Basra, West Qurna-2 oilfield is one of Iraq's – and the world's – largest. Lukoil was awarded a contract for the development of the field back in 2009. Just two days ago, the company signed a new development plan for West Qurna-2.
A continued disruption of the facility work for just three days could reportedly be enough to completely shut down the oilfield.
Violent protests in Basra erupted early this week and since then have left at least 11 people dead. The rioters express their discontent over the shortages of water, electricity and jobs. They have been storming government buildings, as well as the headquarters of political parties with links to Iran.
The Iranian consulate in Basra was stormed and set on fire earlier on Friday. In response to the riots, the Iraqi security officials have imposed a citywide curfew.
Meanwhile, the leaders of the protests reportedly announced a halt to the demonstrations in the region, according to Al Arabiya.
Think your friends would be interested? Share this story!
You can share this story on social media: