Protesters set fire to Iranian consulate in Basra, Iraq (VIDEO)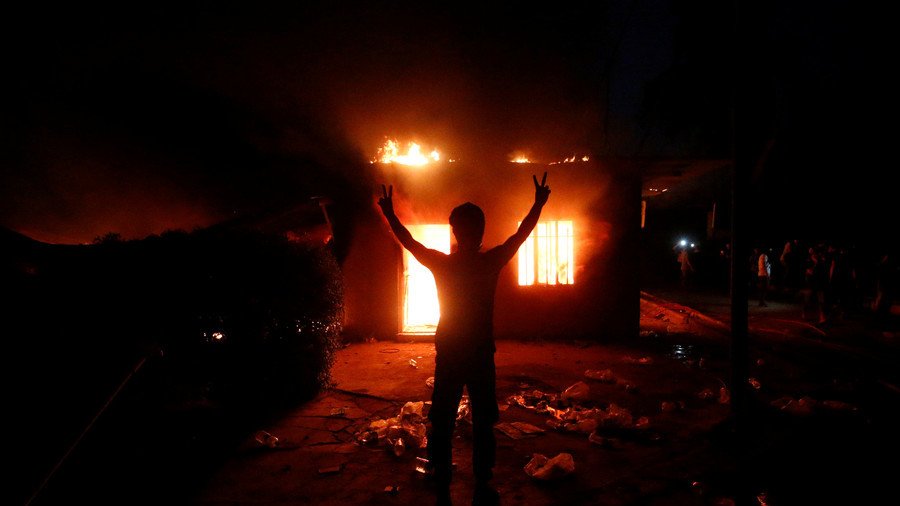 Protesters have stormed and set fire to the Iranian consulate in the Iraqi oil-hub city of Basra. The city has been engulfed in protests over poor public services and corruption since the start of the week.
Violent protests in Basra have been ongoing since the beginning of the week and claimed one more life on Friday, bringing the total death toll to 11, according to Reuters sources. A further 11 were injured over the day, the update said. The rioters are angry over shortages of potable water, electricity and jobs. They have been attacking government buildings, as well as the headquarters of political parties with links to Iran.
At least 10 protesters have died since Monday in clashes with security forces. They are accusing corrupt political parties of allowing the city's infrastructure to crumble, as well as blaming Iran for interfering with Iraqi politics. Before setting fire to the consulate, they spent hours shouting anti-Iranian slogans in front of it. At least one protester's message, viewed over 24,000 time on Facebook, accuses Iran of directly cutting off the water supply to Basra, which is located around 30km from the Iranian border.
Iraqi security officials have announced a citywide curfew amid the ongoing riots, according to a statement by the country's military. A curfew had already been planned for Thursday, but it was canceled minutes before it was to go into effect.
The Iraqi foreign ministry has condemned the violence, saying it harms the country's interests, Iranian outlet PressTV reports.
You can share this story on social media: