Brazil's presidential front-runner Bolsonaro stabbed during campaign event (DISTURBING VIDEOS)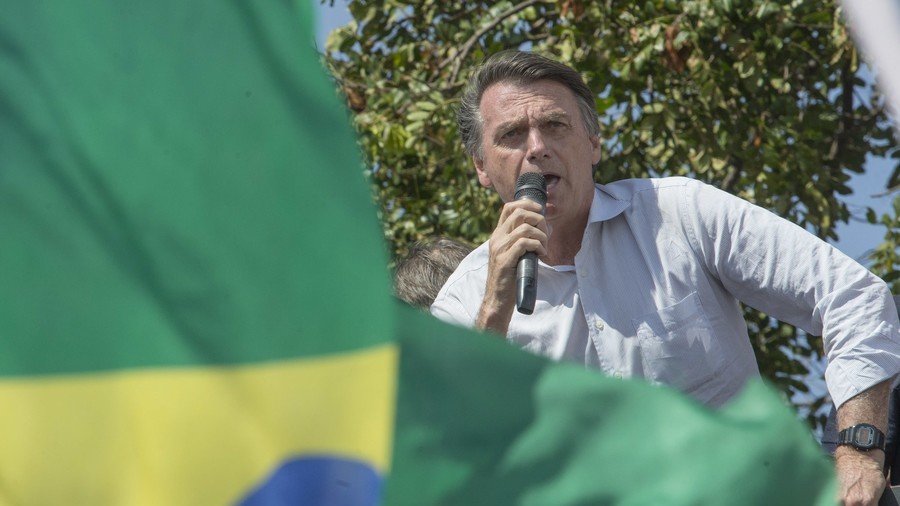 The front-runner in Brazil's presidential election, Jair Bolsonaro, dubbed 'the Trump of the tropics,' has suffered severe injuries in a stabbing attack by a man who said he had been commanded by God.
Bolsonaro was "almost dead," when he was rushed to hospital after losing a lot of blood, and underwent emergency surgery. His condition appears to have "stabilized now," his son, Flavio, said on Twitter. Meanwhile, Bolsonaro's running mate, General Hamilton Mourao, said that his political ally is "doing OK" after a "successful" surgery but noted that his condition remains "delicate."
The politician, who made a campaign stop in the Brazilian southeastern city of Jiuz de Forawas, was attacked with a knife by a man in the crowd, suffering injuries to his liver, lungs and intestines, a spokeswoman at the medical facility that performed the surgery told Reuters, without providing further details.
Police apprehended the "aggressor" immediately after the attack. He was identified as Adelio Bispo de Oliveira. According to reports, the 40-year-old suspect has a criminal record going back to 2013, when he was accused of inflicting "bodily injuries" to other people.
While authorities have yet to provide the official motive behind the assault on the politician, local media reported, citing police sources, that the suspect apparently told interrogators that 'God' ordered him to kill Bolsonaro.
"Divergences of ideas" between the attacker and the politician could have played a role in the attack, Lieutenant Colonel Marco Antonio Rodrigues de Oliveira, the commander of the local police unit, told reporters. He said that the suspect has no clear party affiliation. "He said it was a personal matter of his. Then he did not say anything else."
A video of the incident has circulated on social media, reportedly showing the presidential candidate being dragged to an ambulance through a crowd after he was stabbed.
Another video showed someone in the crowd sticking a knife into the politician's abdomen as he was cheering his supporters.
A former military captain and member of the fringe nationalist Social Liberal Party (PSL), Bolsonaro is a controversial figure in Brazilian politics, who is known for his criticism of gay people and immigrants, as well as for his sympathy towards Brazil's 1964–1985 military dictatorship.
However, he has recently gained popularity as a result of strong populist and anti-corruption messaging at a time when Brazil's ruling elites were mired in a multimillion-dollar corruption scandal, which involved the country's meatpacking and oil giants. Bolsonaro has even been dubbed "the Trump of the tropics" by some media, due to similarities between his campaign tactics and those of the current US President Donald Trump.
READ MORE: Former Brazil president Lula da Silva loses appeal against 12yr corruption sentence
Like Trump, Bolsonaro portrayed himself as a pro-gun, anti-establishment candidate, who is seeking to "drain the swamp" of the Brazilian elite. Some national media have also reported that Bolsonaro repeatedly speaks favorably of Trump, and even liked to compare himself to the US president.
Last year, Bolsonaro promised to make Brazil leave the Paris Climate Agreement – something that Trump already did with the US. He has also slammed the local press for spreading "fake news" in another striking parallel with the US leader, while also promising that his government "would not be politically correct."Despite his apparent popularity, however, Bolsonaro has so far failed to form any alliance with any major political forces in Brazil.
Think your friends would be interested? Share this story!
You can share this story on social media: