Idlib final push: Damascus has the high ground, terrorists to surrender or be destroyed – analyst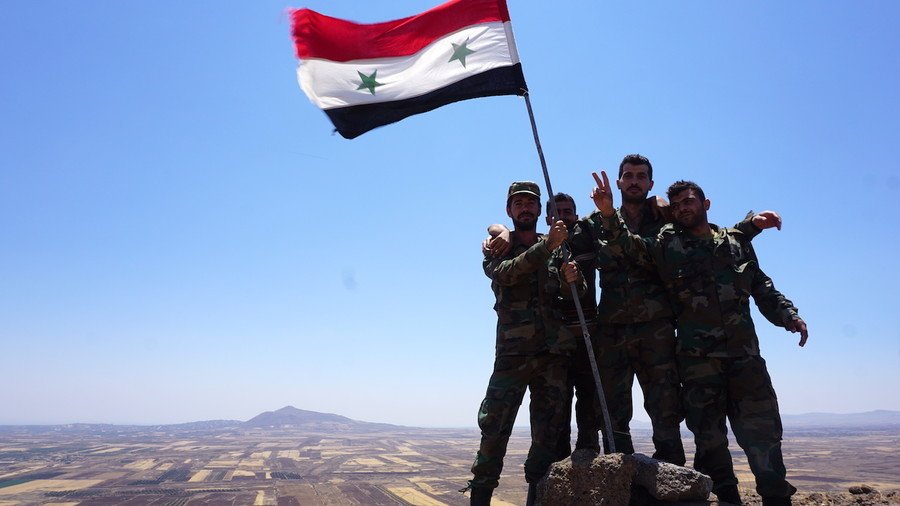 Syria's terror-infested Idlib province is a thorn that needs removing, a military expert told RT, adding that the Syrian Army is capable of both freeing the area from terrorists and keeping civilians safe.
The Idlib de-escalation zone has "served its purpose and has to be cleared out as soon as possible", as it's become a "source of destabilization and threats" that impedes further peace process in Syria, Mikhail Khodarenok, a retired colonel, who worked at the main operational directorate of the General Staff of the Russian Armed Forces, told RT.
'Thorn that needs to be removed'
The region is controlled by various warring militant groups, including such terrorist organizations as the former Al Nusra Front (now known as Tahrir al-Sham). It poses considerable danger both to local civilians and other Syrian territories, as well as to the Russian forces stationed at the Khmeimim Air Base. The terrorists seek to derail the separation of extremist forces from other armed groups "in every possible way."
At the same time, they also launch attacks against other Syrian regions using the Idlib facilities. In early August, Russian forces downed almost a dozen drones near Khmeimim, launched from the militant-held areas in Idlib within just a few days.
Earlier, the Kremlin spokesman Dmitry Peskov referred to the province that is mostly controlled by an Al-Qaeda affiliate, Hayat Tahrir al-Sham, as a "nest of terrorism" that remains an issue of "special concern" for Russia, Syria, and Turkey. He added that a "large group of terrorists had entrenched there," undermining any attempts of diplomatic and political settlement.
Russia has also repeatedly warned about militants preparing a false-flag chemical weapons attack in the province. Moscow even provided the proof of the planned provocation to the UN and Organization for the Prohibition of the Chemical Weapons (OPCW).
"Idlib is a thorn that needs to be removed as soon as possible, otherwise advancing the peace process in Syria simply won't work," Khodarenok said.
'Disproportional use of force is ruled out'
Idlib is a fairly large and densely populated province, with a significant number of civilians living there, Khodarenok warned, while the number of various militants there, including their family members, might amount to some 50,000-60,000. The provincial capital of Idlib alone hosts up to 3 million people. Still, the Syrian Army supported by the Russian Air Forces could avoid significant civilian casualties as it already has a vast experience of fighting in the cities, the expert added.
"Generally, all the fighting in Syria has taken place either in urban areas or close by; almost no one fought in the desert parts of the country, which take up most of Syria's territory," the retired colonel said, adding that the Syrian Army and the Russian forces "will surely take all the necessary steps to prevent civilian deaths, so we can rule out disproportional use of force during such an operation."
One of the possible tactics that Damascus and Moscow might use in this operation is the one they first used during the liberation of another big Syrian city – Aleppo – and was then used in Deir-ez-Zor and other heavily populated areas held by militants. It involves creating humanitarian corridors for civilians to flee the active combat zone.
The Syrian Army is also likely to rely on highly trained and experienced assault groups that have gone through years of fighting and took part in many major battles of the Syrian conflict. As circumstances require, such groups may include motorized infantry, tanks, armored fighting vehicles and engineer troops such as de-mining specialists, Khodarenok said.
If necessary, ground troops can be supported by artillery and Air Forces, which are expected to use precision-guided munitions such as guided bombs and missiles, thus drastically reducing the possibility of collateral damage, the expert said.
'Militants have no option but to surrender or be defeated'
The battle for Idlib is the final push in the prolonged Syrian conflict, which might eventually bring it to an end. That means that the armed groups, which are currently entrenched in the province would have only two options: to "lay down their arms" or to "be destroyed in battle," Khodarenok told RT.
Any other option like the creation of another 'de-escalation zone' on the Syrian territory is not possible any more, the military expert said. He, however, admitted that some of the militants might be eventually transported from Syria to Turkey or Saudi Arabia if the governments of these countries agreed to accept them and reach relevant agreements with Damascus.
"If Turkey and Saudi Arabia refuse to take part in determining the militants' fate, they will have no other choice but to be crushed on the battlefield" or "lay down their arms and surrender to the Syrian Army," the retired colonel said. Ultimately, the eventual defeat of the militants in the Idlib province "would be only a matter of time."
If you like this story, share it with a friend!
You can share this story on social media: