Russian jets hit solely Nusra targets in Syria's Idlib – MoD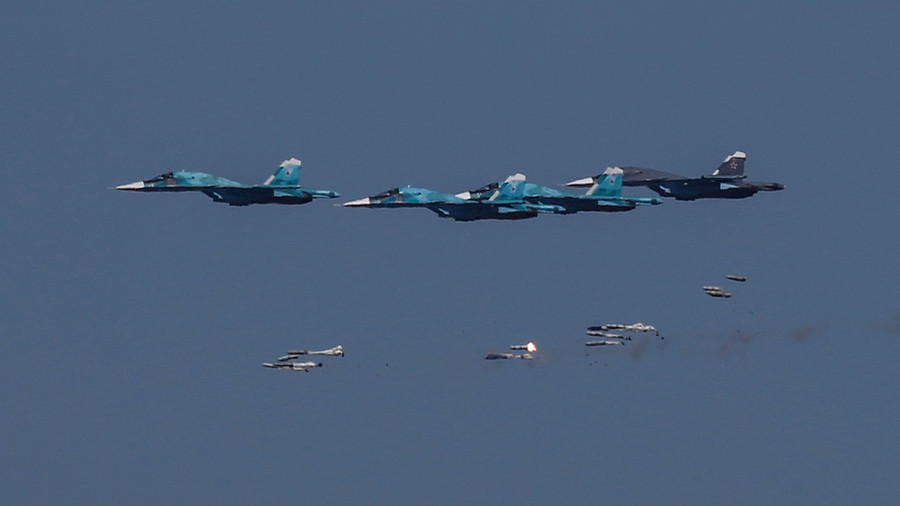 Russian military planes launched precision strikes against Jabhat an-Nusra objects in Syria's Idlib province on September 4, the Russian Defense Ministry has revealed, countering reports of civilians falling prey to bombardment.
The statement comes after speculation that Russian aircraft in fact bombed civilian targets in the area on Tuesday and that the assault led to casualties.
Moscow, for its part, has repeatedly warned that the area is the last stronghold for the terrorists, where militants, among others, have their weapons stockpiled. A particular point of concern, Russia said, were plans by terrorists to stage a fake chemical attack with the aim of framing Damascus. Especially worrying was that militants also received their weapons from "forces from abroad."
"High-precision munitions" targeted the terrorists' sites, according to Russian Defense Ministry Spokesman Igor Konashenkov.
The official stressed that the hits were launched "solely on the identified terrorist objects [targets] located far from settlements."
Elaborating on the targets, the Russian MoD said Su-34 hit and destroyed a workshop where Al-Nusra Front terrorists constructed drones and a warehouse of explosives for them. An Su-35C also bombed a storehouse, where the militants kept their MANPADs.
"The strikes that the Russian Air Forces launched in Idlib were not part of any 'aggression'," the Russian Foreign Ministry said, adding that they targeted the facilities used by terrorists "to stage attacks on the Syrian Army positions, civilians and the Russian military" stationed in Syria. Russia is also "most interested" in leaving civilians out of the fighting and "works in close cooperation with the Turkish side" as the two "take joint efforts to avoid civilian casualties."
Ignoring Russia's warnings, the US has been threatening to retaliate if Syrian authorities use chemical weapons. Earlier this week, US President Donald Trump warned Syrian leader Bashar Assad not to launch an attack in Idlib, also saying that Iran and Russia should not take part in the "potential human tragedy."
Last week, Russian Foreign Minister Sergey Lavrov said that the planned chemical weapon provocation in "the last remaining hotbed of the terrorists," Idlib, is aimed at keeping the terrorists in the area. He noted that civilians are still being held as "human shields" there.
The Western media still refers to those controlling Idlib as 'moderate rebels'. However, the UN special envoy for Syria, Staffan de Mistura, also noted that an estimated 10,000 terrorists are entrenched in the area.
Think your friends would be interested? Share this story!
You can share this story on social media: