Trump to chair UN Security Council meeting on Iran – Haley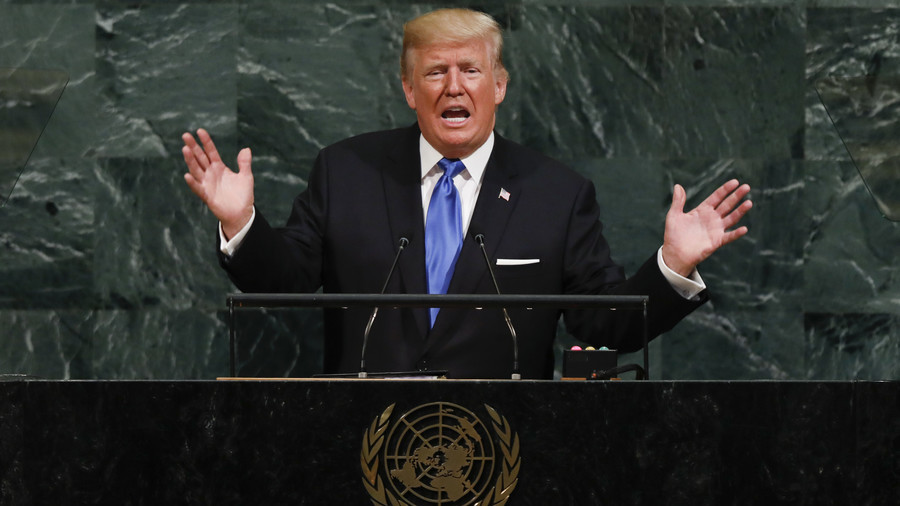 The US ambassador to the UN, Nikki Haley, has announced that President Donald Trump is set to host a Security Council meeting to discuss Iran when he attends the General Assembly in New York later this month.
The US has only just assumed the rotating presidency over the UN Security Council, held by each of the members in turn for a month, and seems to be eager to make the most of it. Trump, who will attend the customary gathering of the world leaders at the UN General Assembly, "intends to chair a meeting at the Security Council and the topic will be on Iran," Haley told reporters on Tuesday.
The US envoy to the UN then yet again squarely accused Tehran of violating international law and sowing "instability" throughout the Middle East.
"It's hard to find a place that has conflict where Iran isn't in the middle of it, and we think that's a problem, and we think that they've been ignored and given a pass for it for too long," Haley stated. "There's nothing we would love more than to have Iran come into the mainstream international community and be a valid country that wants to do good in the world. We're not seeing that."
Iran has been one of the centerpieces of the Trump administration's foreign policy agenda, with numerous accusations repeatedly raised against the country. Top US officials have claimed that Tehran has been meddling in the wars of Syria and Yemen, causing more turmoil in the region.
In reality, however, Iran has been officially invited to Syria by the country's government, while the US illegally occupies parts of the country. Allegations of Iran supplying Houthi rebels with weapons in Yemen are still largely unproven. The Houthis' opponent – the Saudi-led coalition, which has waged a years-long bombing campaign against Yemen – receives full political and military support from Washington.
READ MORE: Trump vs the world? Belligerent unilateralism turning US into 'rogue state', analysts tell RT
Hostile rhetoric between Iran and the US has been soaring since Washington unilaterally withdrew from the landmark 2015 nuclear deal back in May. President Trump has harshly criticized the deal, and is now re-imposing sanctions on Tehran. The toughest package, targeting the Iranian oil sector, is set to take effect in November. The US has also threatened secondary sanctions on any country which dares to purchase Iranian crude, vowing to drive Tehran's oil revenue down to zero.
If you like this story, share it with a friend!