US human rights allegations against China incite Muslim extremism – govt paper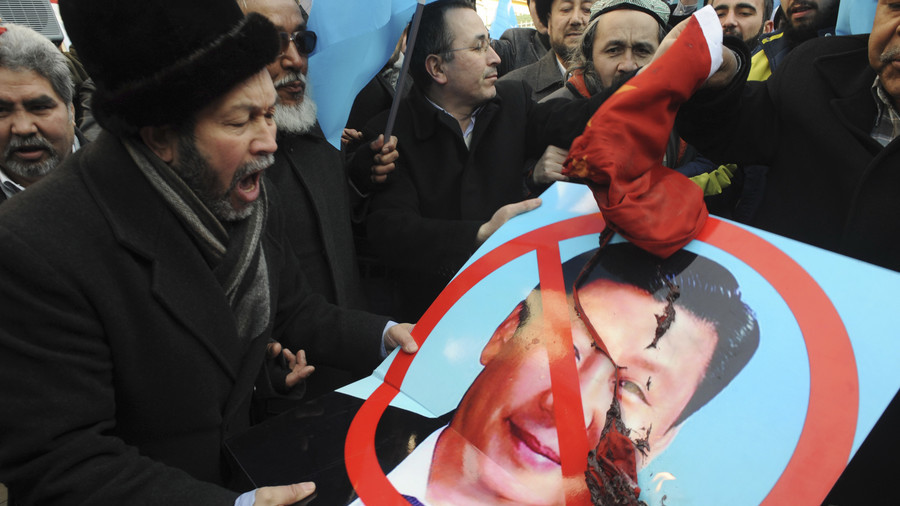 The recent request by some US lawmakers to sanction Chinese officials over their alleged abuse of the Muslim minority in Xinjiang can be seen by extremists as a call to action, China's state-run tabloid said.
The Global Times, an influential Chinese tabloid, published by the Communist Party's Peoples' Daily newspaper, warned Washington against applying its "west-centered" value system to the situation in Xinjiang, an autonomous territory in northwestern China and a home to Uyghurs, China's largest Muslim minority group.
The region has grappled with ethnic violence over the years, with a series of riots between Uyghurs and Han Chinese that broke out in July 2009 and left nearly 200 people dead and hundreds injured. In recent years, the violence has subsided, with critics of the Chinese government accusing it of a massive crackdown on dissent. According to a recent UN panel report, that included placing some 1 million Uyghurs in "counterextremism centers" and even more in "reeducation camps."
In its editorial on Saturday, the Global Times attributed unrest in the turbulent region to "external factors," accusing the US of adding fuel to the fire of ethnic tension. On Wednesday, a group of US lawmakers, led by Senator Marco Rubio and Representative Chris Smith, co-chair of the Congressional Executive Commission on China, penned a letter to US Secretary of State Mike Pompeo and Treasury Secretary Steven Mnuchin, urging them to slap senior Chinese officials with sanctions under the Magnitsky Act. Rubio and Smith believe the officials to be responsible for "arbitrary detention, torture, egregious restrictions on religious practice and culture" and other alleged mistreatment of Uyghurs.
The Magnitsky Act, initially passed by the US government in 2012 to punish those it considered to be behind Russian accountant Sergey Magnitsky's death in a Russian jail, was expanded in 2016 ostensibly to fight corruption and human rights violations on a global scale.
"Western accusations of Xinjiang governance seriously misled the extremists, making them believe they were launching religious Jihad and won sympathy and support from Western and international society," the tabloid stated, calling out the West for disregarding the situation on the ground with its "empty statements about human rights."
"Such empty talk inspires extremists, which meets the purposes of some Western politicians trying to undermine the governance achievements in Xinjiang and push the region into turmoil."
Unlike the one promoted by the West, the Chinese idea of human rights is "rooted in the reality of Xinjiang and supported by most developing countries," the tabloid argues, noting that the overriding goal of the region's administration is to keep it from descending into chaos again, which is in the interests of most of its residents as well.
"Whether Xinjiang governance abuses human rights must be judged by whether its results safeguard the interests of the majority in the region," the article stated.
"No external force is allowed to make decisions for them. They have the support of the Chinese people," the publication concludes.
Former US diplomat Jim Jatras believes that while human rights issues are a real thing for China, Washington seeks to exploit them for its own ends.
"There are violations of certain standards of human rights that the Chinese may engage in," he said. "That is double the case when the country feels that it has an insurgency within its borders. I'm not saying that these violations may not be taking place, what I'm saying is that these are probably being exaggerated very selectively for protocol purposes by people in Washington."
One possible explanation is that possible sanctions are another avenue of economic attack against China, said Jatras, and in particular its ambitious Belt and Road initiative which aims to spread trade connections throught the entire Eurasian continent.
"I don't know how far people in Washington are willing to take it, but no doubt it's intended precisely for the purpose of disrupting the Belt and Road initiative," Jatras said.
Think your friends would be interested? Share this story!