China Daily derides Trump's Twitter rants as 'messages from some alternative universe'
Published time: 31 Aug, 2018 14:30
Edited time: 1 Sep, 2018 09:09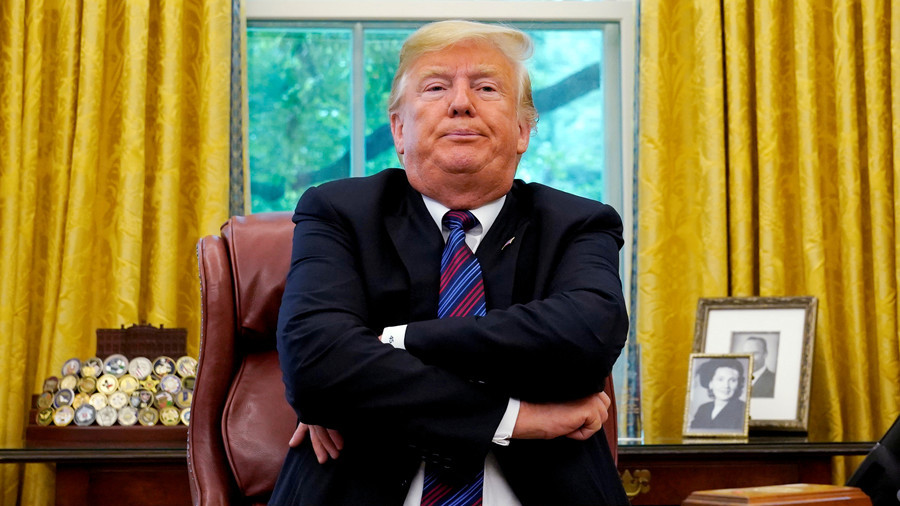 In a Friday editorial, China Daily said that US President Donald Trump's social media rants are "from some alternative universe," following his claim that China hacked Hillary Clinton's email server.
Trump's allegation was met with scepticism by commentators, both foreign and domestic, after he posted it on Twitter this week. The Chinese newspaper has now weighed in to allege that he is looking for a "scapegoat" to draw attention away from domestic scandals.
Report just out: "China hacked Hillary Clinton's private Email Server." Are they sure it wasn't Russia (just kidding!)? What are the odds that the FBI and DOJ are right on top of this? Actually, a very big story. Much classified information!

— Donald J. Trump (@realDonaldTrump) August 29, 2018
Hillary Clinton's Emails, many of which are Classified Information, got hacked by China. Next move better be by the FBI & DOJ or, after all of their other missteps (Comey, McCabe, Strzok, Page, Ohr, FISA, Dirty Dossier etc.), their credibility will be forever gone!

— Donald J. Trump (@realDonaldTrump) August 29, 2018
The president tweeted on Wednesday about a "very big story" which claimed that Hillary Clinton's email server had been hacked by China. He also took the opportunity to sardonically deride both the FBI and Department of Justice while also taking a potshot at the ongoing Mueller investigation saying, "Are they sure it wasn't Russia (just kidding!)?"
READ MORE: 'Are they sure it wasn't the Russians?' Clinton's emails were reportedly hacked by China
The China Daily's riposte was equally pointed. "To the thinking person, there are few things more disconcerting than a tweet by the US president," it reads.
As the editorial points out, the Chinese government was quick to deny Trump's claim. The paper, which is owned by the Communist Party of China, added that the tweet was clearly an attempt to distract voters "as he desperately needs a scapegoat," ahead of the upcoming midterm elections in November, which will see the Republican party fight to maintain control of both houses of Congress.
"Based on both his own definition and from the perspective of the FBI investigation, what he has just resorted to is fiction. Since his supporters have shown a willingness to suspend disbelief, we can no doubt look forward to more such tales," the scathing editorial concludes.
Like this story? Share it with a friend!