'Smart' Putin & election loans: 5 must-read Clinton-Yeltsin exchanges released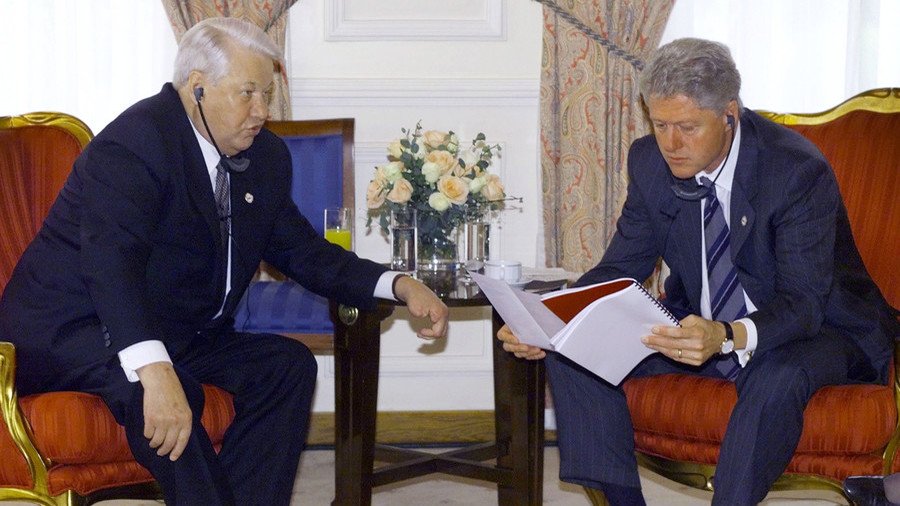 Election influence, NATO expansion and Vladimir Putin were just some of the hot button topics discussed twenty years ago by US President Bill Clinton and Russian leader Boris Yeltsin, newly released transcripts reveal.
Nearly 600 pages of memos and transcripts, documenting dozens of personal exchanges and telephone conversations between Clinton and Yeltsin, were made public by the Clinton Presidential Library in Little Rock, Arkansas last month.
Although dating from January 1993 to December 1999, many of the documents touch upon issues that now dominate the news cycle, providing often overlooked historical perspective and context to the current state of US-Russia relations.
Clinton sends 'his people' to get Yeltsin elected
Amid unceasing allegations of nefarious Russian influence in the 2016 presidential election, the Clinton-Yeltsin exchanges reveal how the US government threw its full weight behind Boris – in Russian parliamentary elections as well as for the 1996 reelection campaign, which he approached with 1-digit ratings.
For example, a transcript from 1993 details how Clinton offered to help Yeltsin in upcoming parliamentary elections by selectively using US foreign aid to shore up support for the Russian leader's political allies.
"What is the prevailing attitude among the regional leaders? Can we do something through our aid package to send support out to the regions?" a concerned Clinton asked.


Yeltsin liked the idea, replying that "this kind of regional support would be very useful." Clinton then promised to have "his people" follow up on the plan.
In another exchange, Yeltsin asks his US counterpart for a bit of financial help ahead of the 1996 presidential election: "Bill, for my election campaign, I urgently need for Russia a loan of $2.5 billion," he said. Yeltsin added that he needed the money in order to pay pensions and government wages – obligations which, if left unfulfilled, would have likely led to his political ruin. Yeltsin also asks Clinton if he could "use his influence" to increase the size of an IMF loan to assist him during his re-election campaign.
Yeltsin questions NATO expansion
The future of NATO was still an open question in the years following the collapse of the Soviet Union, and conversations between Clinton and Yeltsin provide an illuminating backdrop to the current state of the curiously offensive 'defensive alliance' (spoiler alert: it expanded right up to Russia's border).
In 1995, Yeltsin told Clinton that NATO expansion would lead to "humiliation" for Russia, noting that many Russians were fearful of the possibility that the alliance could encircle their country.
"It's a new form of encirclement if the one surviving Cold War bloc expands right up to the borders of Russia. Many Russians have a sense of fear. What do you want to achieve with this if Russia is your partner? They ask. I ask it too: Why do you want to do this?" Yeltsin asked Clinton.


As the documents show, Yeltsin insisted that Russia had "no claims on other countries," adding that it was "unacceptable" that the US was conducting naval drills near Crimea.
"It is as if we were training people in Cuba. How would you feel?" Yeltsin asked. The Russian leader then proposed a "gentleman's agreement" that no former Soviet republics would join NATO.
Clinton refused the offer, saying: "I can't make the specific commitment you are asking for. It would violate the whole spirit of NATO. I've always tried to build you up and never undermine you."
NATO bombing of Yugoslavia turns Russia against the West
Although Clinton and Yeltsin enjoyed friendly relations, NATO's bombing of Yugoslavia tempered Moscow's enthusiastic partnership with the West.
"Our people will certainly from now have a bad attitude with regard to America and with NATO," the Russian president told Clinton in March 1999. "I remember how difficult it was for me to try and turn the heads of our people, the heads of the politicians towards the West, towards the United States, but I succeeded in doing that, and now to lose all that."
Yeltsin urged Clinton to renounce the strikes, for the sake of "our relationship" and "peace in Europe."
"It is not known who will come after us and it is not known what will be the road of future developments in strategic nuclear weapons," Yeltsin reminded his US counterpart.
But Clinton wouldn't cede ground.
"Milosevic is still a communist dictator and he would like to destroy the alliance that Russia has built up with the US and Europe and essentially destroy the whole movement of your region toward democracy and go back to ethnic alliances. We cannot allow him to dictate our future," Clinton told Yeltsin.
Yeltsin asks US to 'give Europe to Russia'
One exchange that has been making the rounds on Twitter appears to show Yeltsin requesting that Europe be "given" to Russia during a meeting in Istanbul in 1999. However, it's not quite what it seems.
"I ask you one thing," Yeltsin says, addressing Clinton. "Just give Europe to Russia. The US is not in Europe. Europe should be in the business of Europeans."
However, the request is slightly less sinister than it sounds when put into context: The two leaders were discussing missile defense, and Yeltsin was arguing that Russia – not the US – would be a more suitable guarantor of Europe's security.
"We have the power in Russia to protect all of Europe, including those with missiles," Yeltsin told Clinton.
Clinton on Putin: 'He's very smart'
Perhaps one of the most interesting exchanges takes place when Yeltsin announces to Clinton his successor, Vladimir Putin.
In a conversation with Clinton from September 1999, Yeltsin describes Putin as "a solid man," adding: "I am sure you will find him to be a highly qualified partner."


A month later, Clinton asks Yeltsin who will win the Russian presidential election.
"Putin, of course. He will be the successor to Boris Yeltsin. He's a democrat, and he knows the West."
"He's very smart," Clinton remarks.
Subscribe to RT newsletter to get stories the mainstream media won't tell you.
You can share this story on social media: