Wilders cancels Dutch Mohammed cartoon contest after 'threats & violence'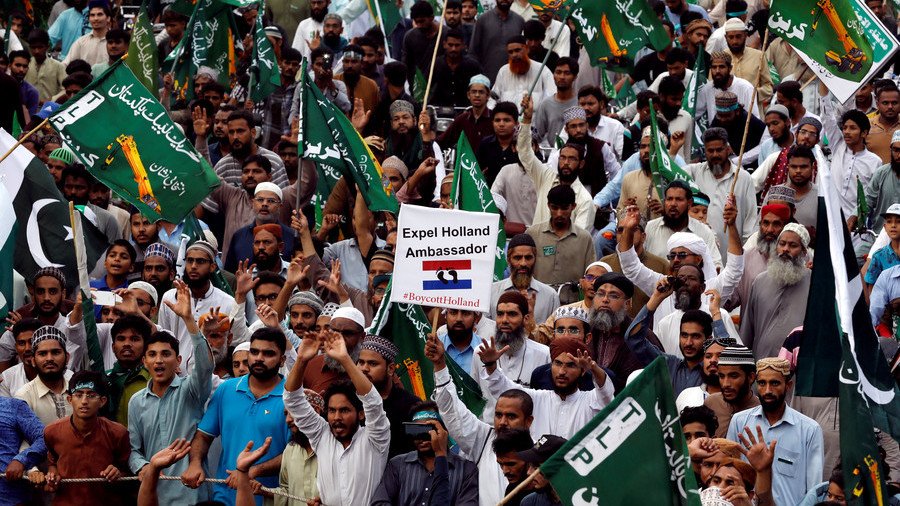 Anti-Islamist Dutch politician Geert Wilders has cancelled his Prophet Mohammed cartoon contests after a man was arrested for plotting an attack against him and thousands took to the streets in Pakistan in protest.
"Islam showed its true face once again with death threats, fatwas and violence," Wilders said as he commented on his decision on Twitter. The Party for Freedom (PVV) leader said the controversial competition was called off because the "safety and security" of the Dutch people was his priority.
Islam showed its true face once again with death threats, fatwas and violence. However, the safety and security of my fellow countrymen comes first. https://t.co/1IL5NFWR7d

— Geert Wilders (@geertwilderspvv) August 30, 2018
Wilders announced his contest in June, inspired by comments to his posts on social media. He promised that the event will be held in the Dutch parliament building in autumn, with the winner receiving a cash prize. The politician said he had gathered more than 200 cartoons of Mohammed for the competition.
Back then, Wilders explained that his intention was not to "provoke or insult" and that the event was being held "because the freedom of speech is the most important freedom we have."
The contest, which was greenlighted by the Dutch counter-terrorist agency (NCTV), sparked protests across the Muslim world, as Islam strictly forbids drawings of Mohammed.
The latest in the series of demonstrations took place in Pakistan on Wednesday, as more than 10,000 took to the streets to decry Wilders's "blasphemous" plans. Islamists in the Pakistani parliament also called for the expulsion of the Dutch ambassador and severing diplomatic ties with the Netherlands.
The mass gatherings prompted the Dutch Foreign Ministry to update travel advice for the country's citizens in Pakistan, urging them "to avoid demonstrations… stay alert and keep a low profile."
Earlier this week, a man – believed to be of Pakistani origin – was detained in The Hague after posting a video on YouTube in which he voiced plans to attack Wilders in the parliament. The 26-year-old, who appeared in court on Thursday, also called on fellow Muslims to support him in his cause.
The perpetrator "is being suspected of committing a terrorist act, planning to commit murder and incitement," Dutch prosecutors said in a statement, adding that they "are taking the threat very seriously."
READ MORE: Dutch anti-immigrant politician takes own life after claiming rape by 'Muslim gang'
In order to calm the tension, Amsterdam imam Yassin Elforkani reminded the Muslims that "in various verses in the Koran you are asked to be merciful to people, who attack you." According to RTL, Elforkani said that "the Prophet was merciful to people who verbally attacked him. So it is best to follow the prophet."
In 2005, Danish paper Jyllands-Posten published cartoons of Prophet Mohammad that sparked Muslim outrage and led to several attempts to assassinate its editor and cartoonist, Kurt Westergaard.
Like this story? Share it with a friend!
You can share this story on social media: