Battleground school: Israeli company makes bulletproof backpacks for US market (VIDEO)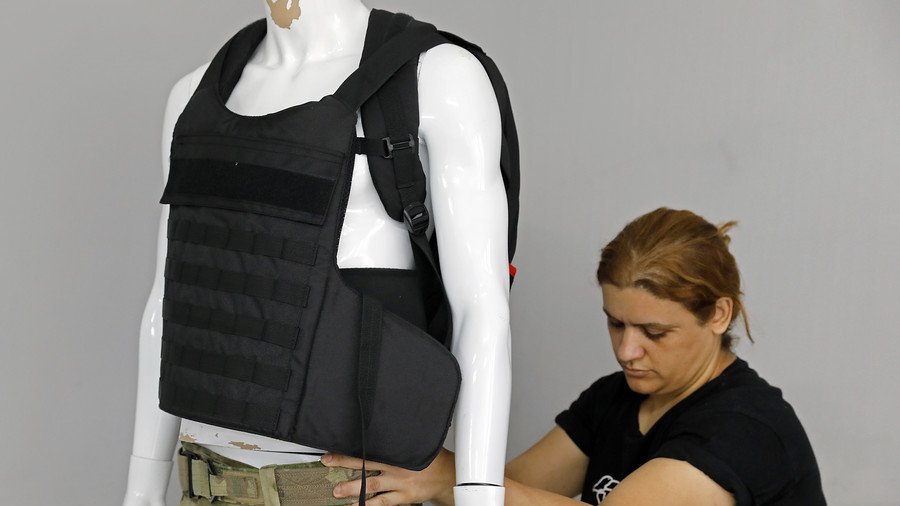 An Israeli company has produced a backpack which transforms into a full-fledged armored vest. It says the product is in high demand in the US, inspired by the school shootings "trauma" there.
"We designed a bullet-proof backpack at the request of our distributors in the United States after the huge trauma caused by the February shooting in Florida," Snir Koren, CEO of Masada Armor, told AFP.
The February 14 shooting at the Marjory Stoneman Douglas High School in Parkland was one of the deadliest incidents of the kind in US history with 17 people killed and some 20 injured.
The company's new product has apparently been received well, as Masada Armor sold "hundreds" of the backpacks in just two months. Now the backpack is available for purchase online and the company is seeking to increase production to 500 units per month, according to the CEO.
The backpack can quickly transform into an actual bulletproof vest, as a promotional video shows. The front piece of the vest is stored within the backpack, and takes about a second to pull out – at least when an adult does it in the video demonstration. It's unclear whether school students under stress would find it as easy to accomplish.
The basic model of the backpack costs some $500, weighs three kilograms (six pounds), and protects against 9mm pistol rounds. The heavier version, weighing five kilograms (11 pounds) sells for more than $700 and offers protection "against high-velocity rifles such as the AR-15 and the M-16 and Kalashnikov assault rifles," according to the manufacturer.
However, the actual class of the armor is listed as NIJ 0101.06 IIIA, which only covers protection from large .357 and .44 Magnum handgun rounds, at most. Higher protection levels, from actual rifle and armor-piercing rounds, can be achieved by adding ballistic plates to the vest, the manufacturer admits.
The backpack is currently only suitable for high-school and college students, since it's too bulky and too heavy for younger children. A child-friendly version is "coming soon," the Masada Armor website states.
Bulletproof items for American students have apparently become a back-to-school fashion trend. Back in June, the eighth-graders at a Pennsylvania middle school were given bulletproof shields – a gift to get them ready for high school from local company Unequal Technologies. Protective gear manufacturer MC Armor has produced a backpack with an armor plate insert.
READ MORE: '3yos can't protect themselves from guns with pencils': US lawmakers tell Sacha Baron Cohen
Masada Armor's take on the bulletproof backpack is definitely a blow to the competitors, since it features a full-fledged armor vest instead of mere ballistic inserts. As yet another step towards the militarization of US schools, such a contraption would certainly make Sacha Baron Cohen's Erran Morad proud.
Think your friends would be interested? Share this story!
You can share this story on social media: