Assange should be given immunity if US wants him to testify – Rand Paul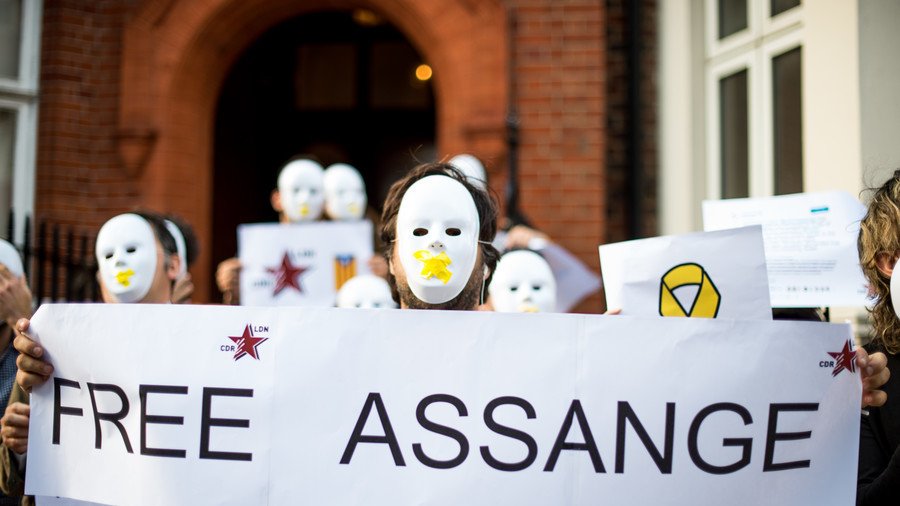 WikiLeaks founder Julian Assange, who has spent more than 2,200 days in the Ecuadorian embassy in London, should be granted immunity from prosecution if he agrees to testify in the US, Senator Rand Paul has said.
"I think that he should be given immunity from prosecution in exchange for coming to the United States and testifying," Paul said in an interview to the Gateway Pundit website.
Paul believes that Assange "has information that is probably pertinent to the hacking of the Democratic emails that would be nice to hear." But he doesn't think Assange is likely to come and share it unless given "some type of immunity from prosecution."
Earlier this month the US Senate Intelligence Committee, investigating alleged Russian interference in the 2016 election, requested that the WikiLeaks editor testify. In a letter delivered to Assange, committee chairman Richard Burr (R-North Carolina) requested that Assange make himself available for a closed interview "at a mutually agreeable time and location."
Responding to the request, WikiLeaks said on Twitter that its team is "considering the offer but testimony must conform to a high ethical standard."
Former CIA officer and whistleblower John Kiriakou earlier told RT that he also thinks Assange needs to be given immunity by the committee because otherwise "anything he said before the committee could not be used against him." He said that many on the Intelligence Committee see the WikiLeaks founder not as a journalist and publisher, but as an enemy of the state.
According to human rights activist Peter Tatchell, the US "wants revenge" for the "embarrassment" WikiLeaks caused it, and hopes it can serve "as a deterrent to others."
"Someone who's published that information in the same way that the New York Times or the Guardian publish information, I don't think they should face a risk of 30 or 40 years in jail in the United States," Tatchell told RT in July.
READ MORE: Are you being served? DNC officially gives notice of lawsuit against WikiLeaks via Twitter
There have been recent media reports suggesting that Assange will soon leave the Ecuadorian embassy in London, where he's been ensconced for six years, due to worsening health and political pressure from Ecuador.
Rape allegations made against him, stemming from his visit to Sweden back in August 2010, were the main reason that he sought refuge in the embassy after a warrant was issued for his arrest.
The WikiLeaks founder maintained that he could be extradited from Sweden to the US, where he would be prosecuted for his whistleblowing activities and would not receive a fair trial. Swedish prosecutors dropped the investigation in 2017, but a British warrant for violating bail conditions still stands.
Like this story? Share it with a friend!
You can share this story on social media: