Details of Steven Seagal's special Russia-US envoy mission revealed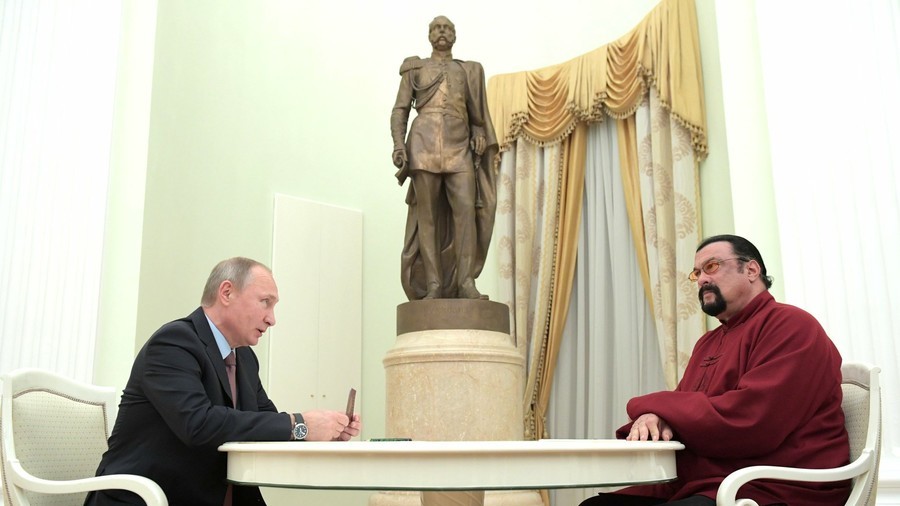 After being announced as Russia's special representative on humanitarian relations with the US, the exact nature of Hollywood star and martial artist Steven Seagal's mission has been revealed.
A statement released by the Russian Foreign Ministry on Monday says that Seagal's unpaid role aims to strengthen "contacts, mutual understanding and trust between the peoples of Russia and the United States."
His duties will involve promoting bilateral ties in a wide range of fields including culture, art, science, education, sports, public and youth exchanges, that will see him participate in relevant events both in Russia and abroad, and maintain contacts with US partners.
Seagal will also engage in efforts to preserve "Russia's memorable places in the United States, study and popularize the legacy of Russian America and other pages of our common history that are of great interest to citizens of both countries," the ministry said.
US-born Seagal, whose paternal-grandparents were Russian Jews who emigrated to the United States, gained Russian citizenship in 2016 after a history of engagement with the country dating back to his opening of a Planet Hollywood restaurant in Moscow in the 1990s.
Somewhat of a Slavic citizenship collector, the star of action movies Under Siege, Hard to Kill, and Out for Justice was also granted Serbian citizenship in 2016, after offering to open an Aikido school in the capital city.
I am deeply humbled and honoured to have been appointed as a special representative of the Russian Foreign Ministry in charge of Russian and American Humanitarian ties.I hope we can strive for peace, harmony and positive results in the world.I take this honour very seriously pic.twitter.com/LTuUxsk1aZ

— Steven Seagal (@sseagalofficial) 5 августа 2018 г.
A 7th-dan black belt in the Japanese martial art Aikido, he was the first foreigner to open a dojo of the style in Japan, a feat few non-Japanese martial artists achieve.
Speaking to press after the announcement, Seagal said he was "sincerely grateful" to the Russian ministry for the honour.
"I've always tried to do everything possible to help Russian-American relations to improve. I was working towards without having an official status and now it is a great honor for me to do the same officially," he told the TASS news agency.
Think your friends would be interested? Share this story!
You can share this story on social media: