Putin grants Steven Seagal Russian citizenship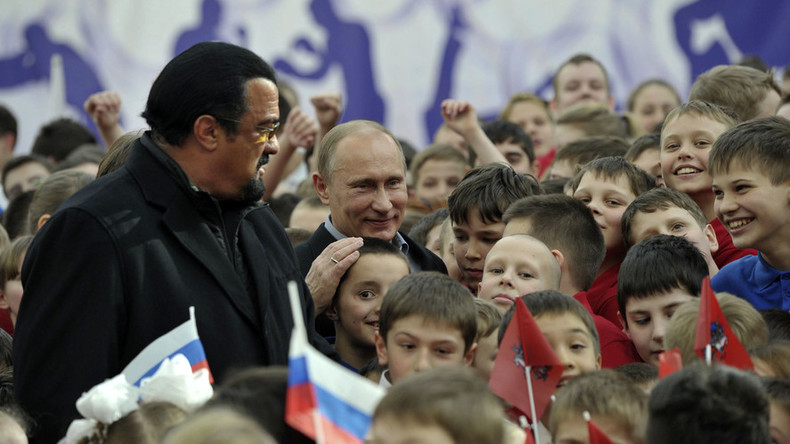 Steven Seagal has been granted Russian citizenship courtesy of an order signed by President Vladimir Putin. The US actor and martial artist is a long time supporter of Russia - the country his family once hailed from.
"He is a rather well-known actor, which became the reason for granting him Russian Federation citizenship," Kremlin spokesman Dmitry Peskov said on a conference call with reporters, according to Reuters.
Seagal had been "had been really persistent for a long time" in asking for citizenship according to Peskov.
"I congratulate my friend Steve on the fact that now he has become our compatriot!" Russia's deputy Prime Minister Dmitry Rogozin tweeted.
The 64-year-old star of 'Under Siege' and 'On Deadly Ground' is the descendant of Russians with his grandmother originally from Vladivostok, before she moved to America where his parents were raised.
READ MORE: No 'iron curtain' for Russian arms industry – Rogozin
Seagal has been a regular visitor to the country since the 90s when he opened a chain of the Planet Hollywood franchise in Moscow. In 2013 he became an ambassador for Russian firearms manufacturer Orsis. Seagal said at the time that "Russia and America should become the greatest allies" and demonstrate "great examples of setting for peace in the world."
He was asked by Rogozin to lobby for the easement of US restrictions on the sale of Russian sporting rifles to the US in 2013. In 2014 he expressed support for Russia's involvement in Crimea describing it as "very reasonable". He played a concert there at which he brandished a T-shirt bearing an image of Vladimir Putin.
The 64-year-old follows French actor Gerard Depardieu, who gained his Russian passport in 2013. Seagal was awarded Serbian citizenship this year, after offering to set up a martial arts school in the country.