Russia marks Navy Day with grand parade in St. Petersburg & other cities (PHOTOS, VIDEO)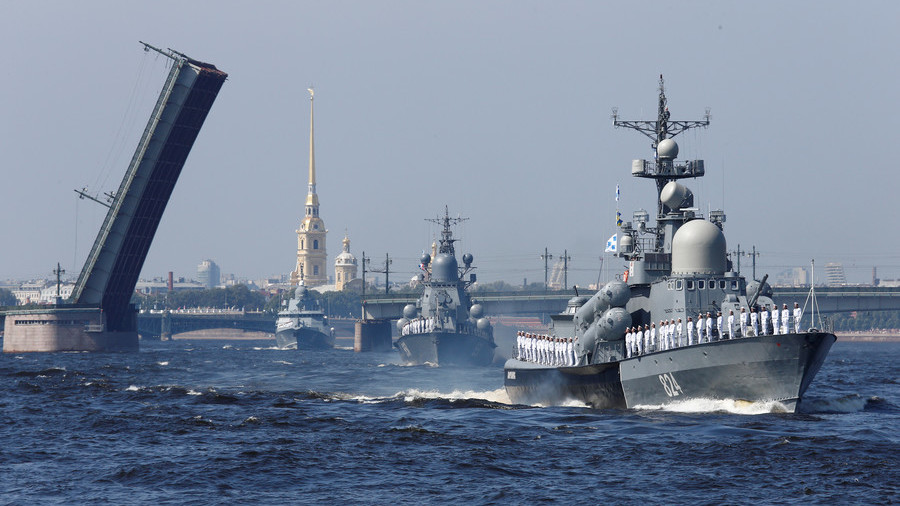 Over 40 warships and more than 4,000 sailors made up a spectacular Navy Day parade in Saint Petersburg, attended by Commander-in-Chief Vladimir Putin. Similar fleet reviews also took place in major port cities across Russia.
Vessels representing all fleets of the Russian Navy have moored in Neva River in St. Petersburg, where a massive naval parade took place on Sunday to commemorate over three centuries of is rich history. President Vladimir Putin has attended the Saint Petersburg event, in which he inspected the warships as well as sailors lined up along the Admiralty Embankment.
READ MORE: Russian warships rehearsing Navy Day parade in St. Petersburg (PHOTO, VIDEO)
"Russian Navy successfully ensures security of our country, contributes to combating international terrorism and plays vital role in maintaining strategic parity," he told the troops in an address. He said the entire Navy's history "is about the sailors' courage, valor and spirit."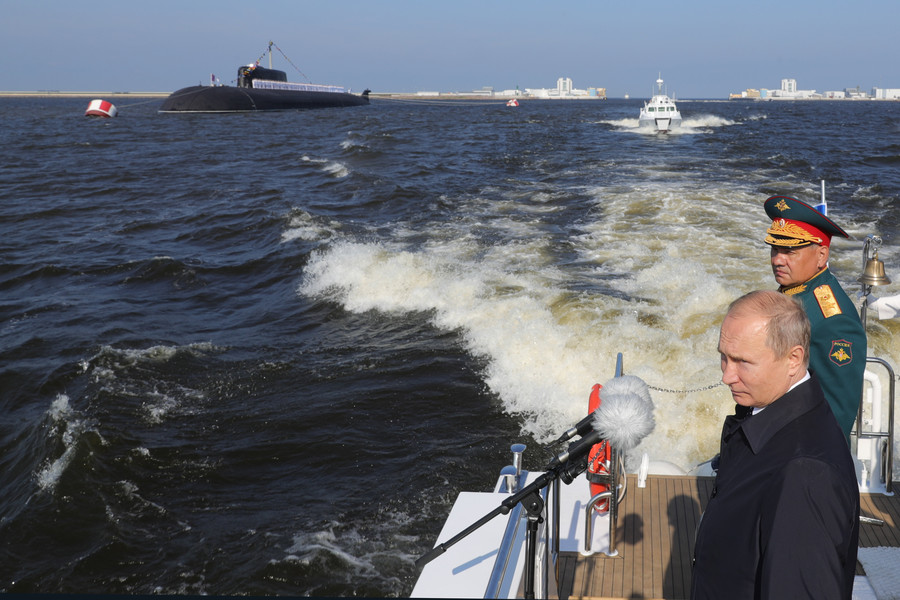 Flanked by top military brass, including Defense Minister Sergey Shoigu and Navy commander Admiral Vladimir Korolev, Putin added: "We are proud of our Navy, their highest standard of readiness, their capabilities, as well as their strength and beauty."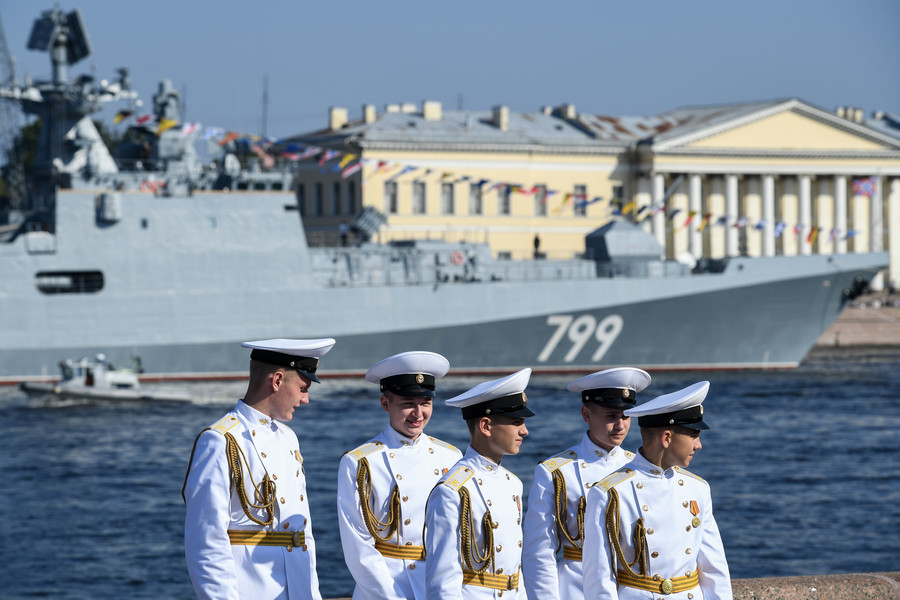 The massive event in Saint Petersburg saw some 40 warships from Baltic, Northern and Black Sea fleets as well as the Caspian Sea flotilla, including Russia's newest Admiral Gorshkov-class frigate, a Steregushchiy-class corvette, a diesel-electric submarine as well as dozens of fast-attack crafts, landing ships and auxiliary vessels.
4,000 sailors paraded in front of the guests, followed by navy aircraft, including the Su-33 and MiG-29K fighters along with Ka-52K and Ka-27M helicopters making traditional flypast over Saint Petersburg.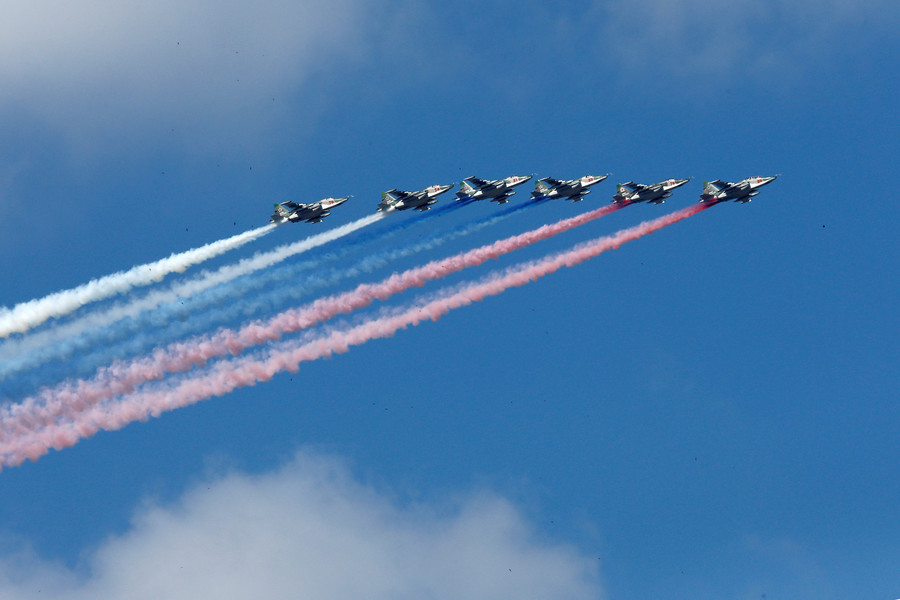 Similar events have occurred in Russian cities of Kaliningrad, Sevastopol and Vladivostok – all home bases of the Navy ships. Parades were spanning not only nine time zones within the country, but also have been set up in the Syrian port of Tartus, where a Russian maritime task force is stationed.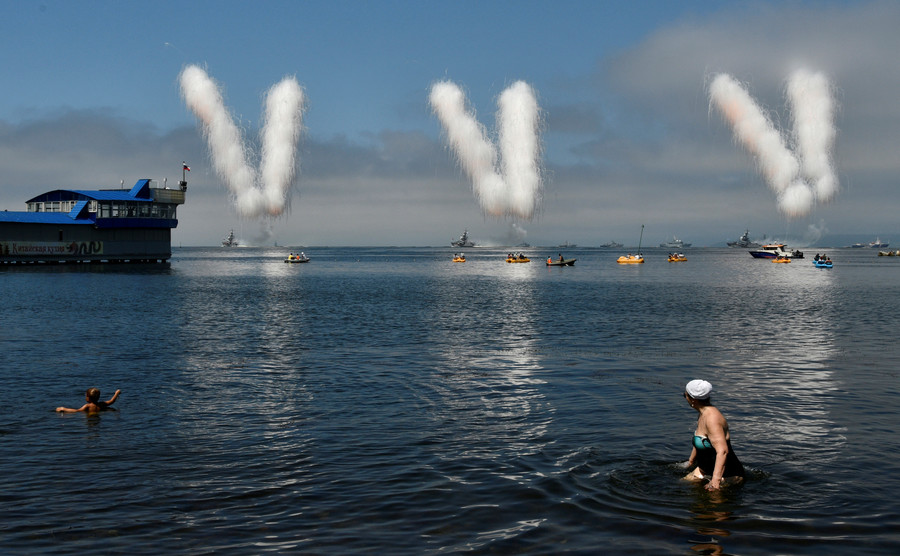 The Russian Navy fleet, which was founded in 1696 by Emperor Peter the Great, has marked its 322nd birthday this year. Russia's Navy Day was established in the Soviet Union back in 1939. It has been celebrated on the last Sunday of July since 1980.
Subscribe to RT newsletter to get stories the mainstream media won't tell you.