'Christian democracy' to crush multiculturalism in EU vote next year – Hungary's Orban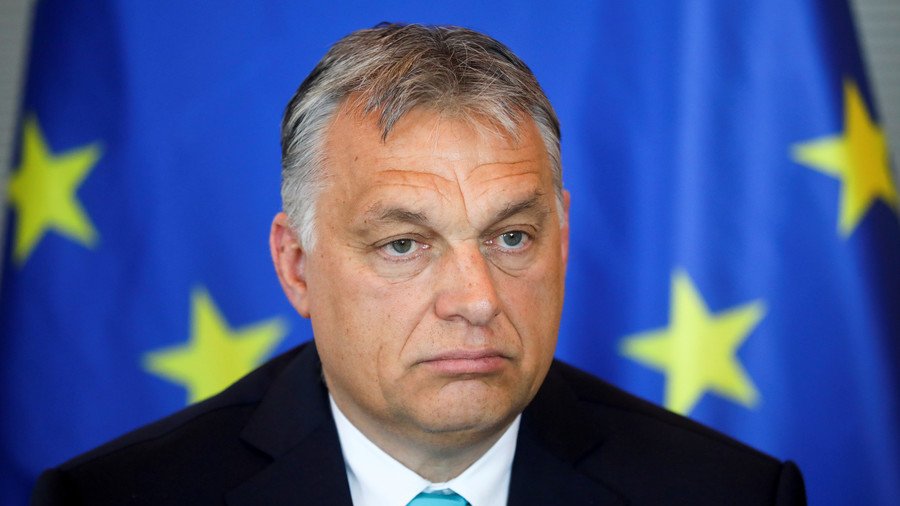 Illiberal "Christian democracy" will replace multiculturalism after the European Parliament vote in 2019, Hungarian Prime Minister Viktor Orban has predicted, adding that the EU elite have failed the people and should step down.
The European Parliamentary elections in May 2019 will decide the fate of the European "elite" and they're "visibly nervous" about it, Orban told a crowd of ethnic Hungarians in the Romanian town of Baile Tusnad on Saturday.
It's time for the current Western leadership of the EU to go, as it has failed to protect the bloc from immigration, he said.
"Their big goal is to transform Europe, to ship it into a post-Christian era and into an era when nations disappear – this process could be undermined in the European elections. And it is our elementary interest to stop this transformation," the PM said.
The liberal values and multiculturalism promoted by Brussel will crumble in the face of what he called "Christian democracy."
According to Orban, "Christian democracy is not liberal... It is illiberal, if you like." This ideology rejects not only immigration and multiculturalism, but Communist values as well, he explained.
Next year's vote will be "a big moment" that will see Europe "saying goodbye not simply to liberal democracy... but to the 1968 elite," he said, referring to a wave of liberal protests in Europe and US that paved the way for the decline of conservative ideologies.
"There's a general shift towards the right in the whole of Europe," the PM told his audience, adding that, in order for a shift to "illiberal democracy" to happen, the European elections must be focused on "one common theme – immigration."
The immigration issue has been the reason for ongoing strife between Orban and the EU, as Budapest leads a group of Eastern European nations resisting Brussel's push to settle asylum seekers there using a quota system. Hungary famously erected a 110-mile long security fence on its border to prevent refugees from making it into the country at the peak of the European migrant crisis in 2015.
READ MORE: Hungary approves 'Stop Soros' law criminalizing aid to illegal migrants
On Friday, the PM again slammed the European Commission, led by Jean Claude-Juncker, over its apparent impotence in solving the migrant issue, comparing it to a helpless frog that's being cut up in a biology class. "We need a commission, after the European elections, which does not punish those countries that protect their borders like Hungary," he said.
The Hungarian leader's campaign against George Soros has also been making headlines; he blamed the US billionaire and open borders advocate of attempting to use immigration to undermine Europe and its Christian values. In June, Hungary passed the so-called 'Stop Soros' law, which criminalized assistance to illegal immigrants that had previously been provided by Soros-backed groups.
READ MORE: 'Threat to the world': Hungary to pull out of 'extreme' UN migration pact
Despite accusations coming from the West of being authoritarian, his anti-immigrant stance has garnered Orban huge public support in his home country. He won his third term as Prime Minister in April, with his rightist Fidesz party holding a two-thirds majority in the parliament.
Think your friends would be interested? Share this story!
You can share this story on social media: