Hungary approves 'Stop Soros' law criminalizing aid to illegal migrants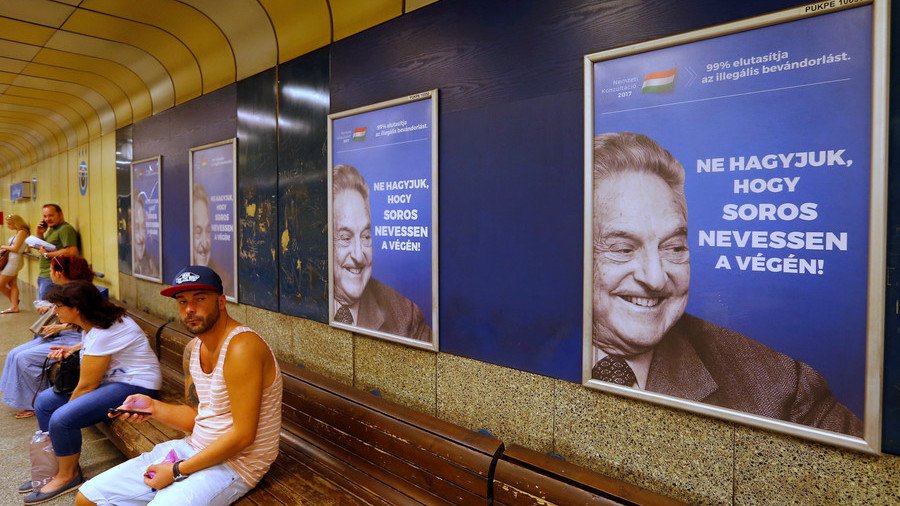 Hungary's parliament has passed a law that could see anyone helping illegal immigrants claim asylum in the country imprisoned. The 'Stop Soros' law is named after Hungarian-born billionaire and open-borders advocate, George Soros.
The law was voted on in the Hungarian parliament on Wednesday, where Viktor Orban's right-wing Fidesz party holds a two-thirds majority. Under the law, individuals who aid migrants, informing them about the asylum procedure or "providing financial or property benefit" will be liable for a 12-month prison sentence. NGOs working with migrants will need to seek licenses and will see the scope of their work severely restricted.
The law was criticized by Human Rights Watch, who called it "the latest salvo in the Hungarian government's war on refugees and those who help them."
Under its terms, aid workers suspected of "enabling illegal immigration" could be barred from border areas at the authorities' discretion. Activists fear that this could be used against watchdog groups and journalists keeping an eye on Hungarian authorities.
The law also grants the authorities permission to deny asylum claims to migrants who arrive from a country other than their own.
"We want to use the bills to stop Hungary from becoming a country of immigrants," said Interior Minister Sandor Pinter.
The bill is named after Hungarian-born billionaire and liberal financier George Soros. Soros has been a vocal critic of Orban's government and at the height of the refugee crisis, stated that the "EU has to accept at least a million asylum-seekers annually for the foreseeable future. And, to do that, it must share the burden fairly."
READ MORE: Le Pen, Orban, Wilders among Kremlin's '5th column' hell-bent on destroying Europe, says EU bigwig
Orban has accused Soros of attempting to use mass migration to undermine Europe's stability. "Soros has antagonized not only us but also England, President Trump and Israel too," Orban said in February. "Everywhere he wants to get migration accepted. It won't work. We are not alone and we will fight together... and we will succeed."
So far, Orban appears to be winning. Soros' Open Society Foundations ended its operations in Hungary this April, citing "an increasingly repressive political and legal environment in Hungary." The Hungarian government had previously hinted that Soros' NGO could be punished under the new law.
"If Soros is found to have engaged in such activity, meaning he organizes illegal immigration, then the rules will apply to him," government spokesman Zoltan Kovacs said in February.
In addition to the 'Stop Soros' law, the parliament also passed a constitutional amendment on Wednesday stating that an "alien population" cannot be settled in Hungary, a rebuke of the EU's plan to impose resettlement quotas on member states.
Viktor Orban rode a wave of populist sentiment to victory in Hungary's 2010 elections. Since then he has been a constant critic of liberal democracy, and of the European Union. When waves of migrants began pouring into Hungary over the Serbian border, his government erected a 110-mile long, double-layer security fence in 2015.
At present, Hungary accepts two asylum seekers per day. Once their claims are processed, they often disappear towards Austria and Germany.
Think your friends would be interested? Share this story!
You can share this story on social media: