Over 90 killed in string of attacks in Syria's southwest, ISIS behind carnage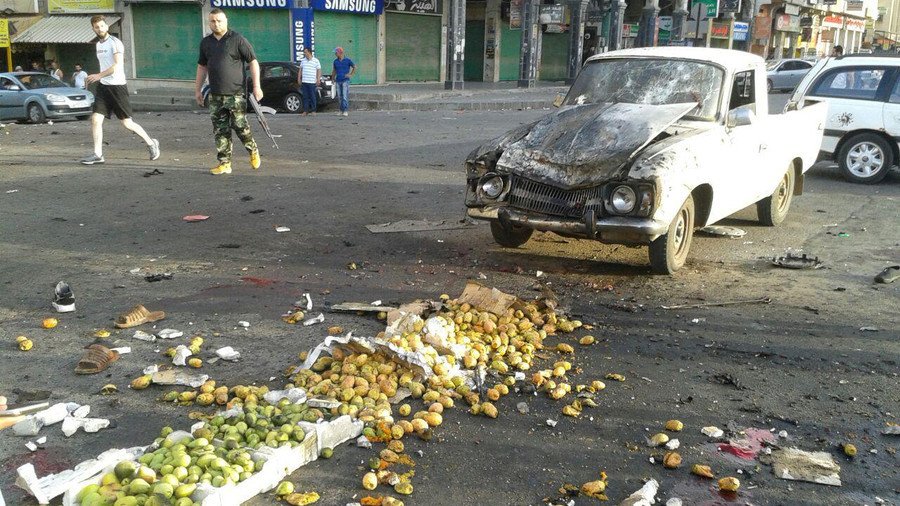 More than 90 people were killed and 80 injured in a string of attacks, including suicide bombings, that hit southwestern Syria on Wednesday, a local health official told AP.
A suicide bomber blew himself up in the market area in the city of Sweida, Sana state news agency said. Law enforcement reportedly killed two more suicide attackers before they could blow themselves up. The villages of al-Matouneh, Douma, Tima, al-Shabaki, and Rami to the northeast of Sweida were struck by simultaneous attacks.
READ MORE: Stockpiles of surrendered Western arms in Syria a sign of 'gross interference' - Russia
The bombings and subsequent fighting between pro-government forces and militants claimed the lives of over 90 people and injured 80 more, according to local health official Hassan Omar. It remains unclear whether the figures include casualties among the attackers.
Islamic State (IS, formerly ISIS) has claimed responsibility for the carnage. Syrian army units allegedly confronted the fighters and killed a large number of terrorists, according to the state media.
Condemning the attack, the Russian Foreign Ministry said the terrorists "desperately resort to mass violence against civilians," as they feel "the inevitability of their defeat."
Previous terrorist attack took place in the Damascus suburb in March, killing 37 people. Militants attacked a local market in the mostly Christian and Druze neighbourhood back then.
Islamic state fighters have been gradually losing ground since Russia's Airforce joined Syria's anti-terrorist campaign in 2015.
In May, the Syrian Army declared Damascus and its surrounds fully secure after regaining control of a former IS stronghold in the southern part of the city. The terrorists' armed units were also completely eliminated in the Yarmouk Palestinian refugee camp in the capital.
READ MORE: US tells rebels not to count on its help as Syrian army advances into country's southwest – report
In the meantime, in neighboring Iraq IS activity is surging, with more Iraqis being abducted and murdered by terrorists, despite the Western coalition declaring victory over the militants.
Subscribe to RT newsletter to get stories the mainstream media won't tell you.
You can share this story on social media: