'West wants only quick buck from Africa, while China invests for win-win cooperation'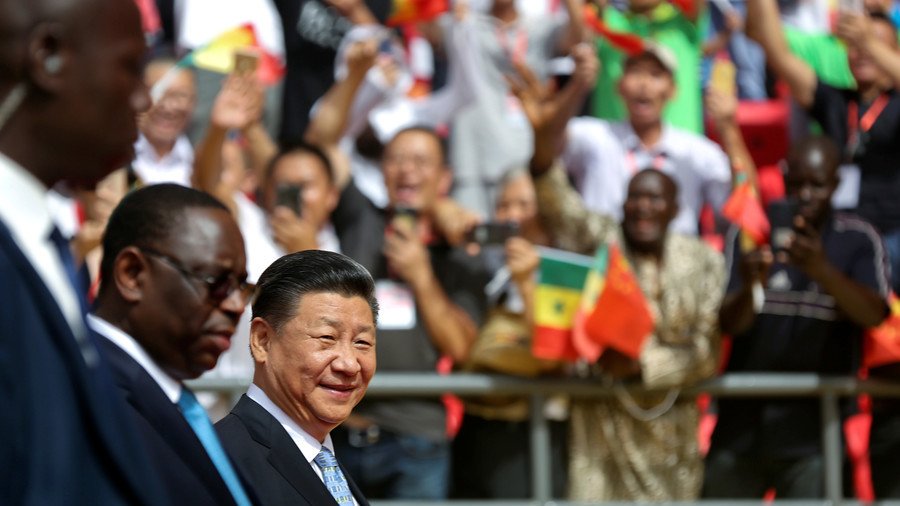 The US needs to get over the geopolitical thinking and stop demonizing China in order to transform the African continent and eliminate poverty and hunger, African affairs analyst and journalist Lawrence Freeman told RT.
Chinese President Xi Jinping is on a trip to Africa in a bid to establish deeper trade ties. On Monday, he arrived in South Africa for a state visit, which will be followed later this week by his participation in the 10th BRICS summit in Johannesburg. Earlier, the Chinese leader visited Rwanda and Senegal, which is the first West-African country to be involved in China's "Belt and Road" infrastructure project.
READ MORE: China's Xi touches down in Senegal for first visit to west Africa
Beijing has been expanding its presence in Africa in recent years, investing $39 billion in the continent in 2017.
Political analysts told RT that countries in Africa are turning to China because of US government policies.
Earlier this year, US ties with several African countries were placed under strain following some infamous remarks by Donald Trump.
RT: What do you think Xi Jinping will be hoping to get from his tour of Africa?
Lawrence Freeman: I think this is an indication by President Xi of how important they view their collaboration with Africa. He is going to be visiting four countries and they are going to end up at the BRICS Summit in South Africa. This is a continuation for the last several years of the 'Belt and Road' policy in Africa. And it has been a real boost for African development policies, especially in the areas of infrastructure, energy, roads and rail. And this indicates that they are going to continue along that policy for sure.
RT: Do you think China's interests in Africa are purely economic or are they also about greater geopolitical influence?
LF: China, especially under this president, has a view of a win-win cooperation, that countries can work together for the common benefit of a mankind, that they will benefit from economic cooperation. The African countries certainly will. There has been no infrastructure built in Africa since the colonial period. The West refused, the US state has refused, Europe has refused. So, China building its infrastructure which you see in Kenya, in Nigeria, Ethiopia and other places, this is a real positive step for the development of Africa. And I think the Chinese want to help Africa. They will make money, of course. The Africans will improve their economies. And the people's standard of living will improve and hopefully we'll eliminate the poverty in Africa.
RT: Many Western countries are wary of investing in Africa due to instability and security problems. But China doesn't seem to have been put off by these concerns. Why is that the case?
LF: China under this president has a vision for the future. They develop themselves and they develop their neighbors and they develop other countries around the world. So, the whole concept of the 'Belt and Road' is counter to geopolitical thinking, it is countries working together, they call it win-win. And the problem is that the West has no vision for development of Africa, has refused to develop Africa, so therefore they attack Africa, they complain about Africa's loan, they complain about the debt. The debt under Western countries, the IMF and the World Bank far exceeds anything that the Chinese have in terms of debt with African countries. So, the West has to get over their problems, get over the geopolitical thinking, stop demonizing China and actually if the president was intelligent in this question, he would join the 'Belt and Road' because if China and the US joined together, we could transform the continent and eliminate the poverty and hunger. And that is what I am trying to do.
The US influence on Africa was already dwindling well before Trump came into the play. And it will continue to dwindle because of some of his comments, his attitude towards Africans, and his position on Africa in general. He is only interested in military bases. And Africans, I am afraid, are very much interested in partnership and those who take them seriously. And like a liberalized continent, it is voting with its feet and it is changing the US in every sector, that I know of, in favor of the Chinese. And China already had a huge presence and influence and that influence has just grown to levels for which even if the Americans were to try now unlikely to ever catch the Chinese in my lifetime. - Ayo Johnson, journalist & founder of Viewpoint Africa
The US has a very small outlook towards Africa and the rest of the world. They do not want to invest in the infrastructure, which is a long-term investment but it improves the entire economy. And they haven't. The basic attitude of the US… is to make money, to make double-digit profits overnight. They are not interested in the long-term development of a country. That is why the US and the West built no railroads, they were built with China's help, China has built the new hydro-energy plants, China has built new ports. And there are many more things that they are working on across Africa. So, the problem is that the West is not really thinking how to develop this continent, they are thinking in terms of how to make some fast bucks…
Think your friends would be interested? Share this story!
You can share this story on social media: