Controversial Croat Vida saved from falling off open-top bus… by goalkeeper Subasic (VIDEO)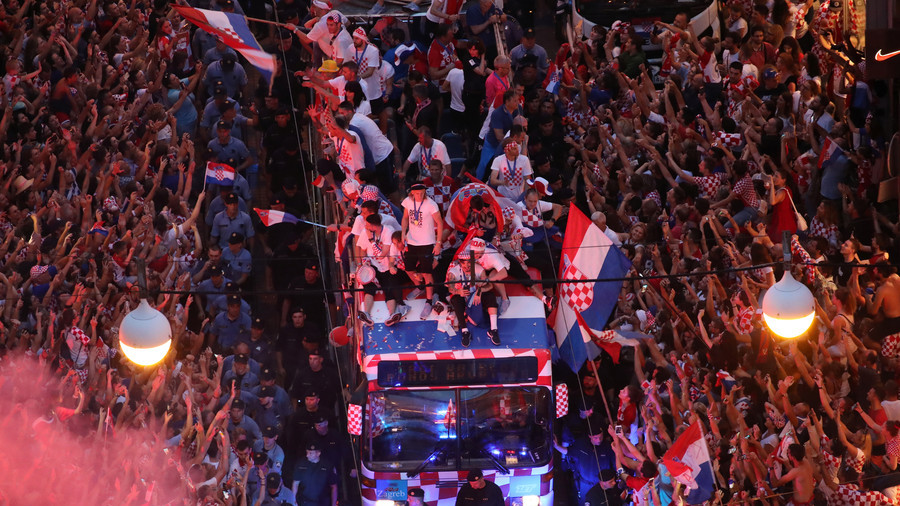 Croatia's biggest party in two decades got a little out of hand as over-excited defender Domagoj Vida required a last-second intervention – aptly from goalkeeper Danijel Subasic – to save him from sliding off the open-top bus.
About 100,000 people gathered in the center of the capital Zagreb to meet the nation's footballing heroes returning from a valiant run to the FIFA World Cup final in Russia, which ended with defeat to France in the final.
Among the chaos, the media missed one close shave with disaster. Getting up on the front of the open-top double-decker Vida, his trademark long blond hair covered under a traditional local hat, raises his arms in triumph only to slip spectacularly feet first off the edge of the vehicle.
Unsurprisingly the quickest reflexes are shown by Subasic, who calmly grabs Vida by the tee-shirt and pulls him back in – to loud cheers from the crowd. Vida carries on as if nothing has happened, perhaps confident that any fall will be cushioned by the outstretched arms of the adoring national team fans.
READ MORE: Croatia team given heroes' welcome on return to Zagreb after historic World Cup run (VIDEO)
Vida, who plays his club football in Turkey for Besiktas, has placed himself in the spotlight at Russia 2018 – both due to his incendiary pro-Ukrainian comments and his standard of play, which may soon see him move to Liverpool for £20m ($26 million).