Prime target: Amazon Europe workers walk out during promotional period
Published time: 17 Jul, 2018 15:48
Edited time: 18 Jul, 2018 08:06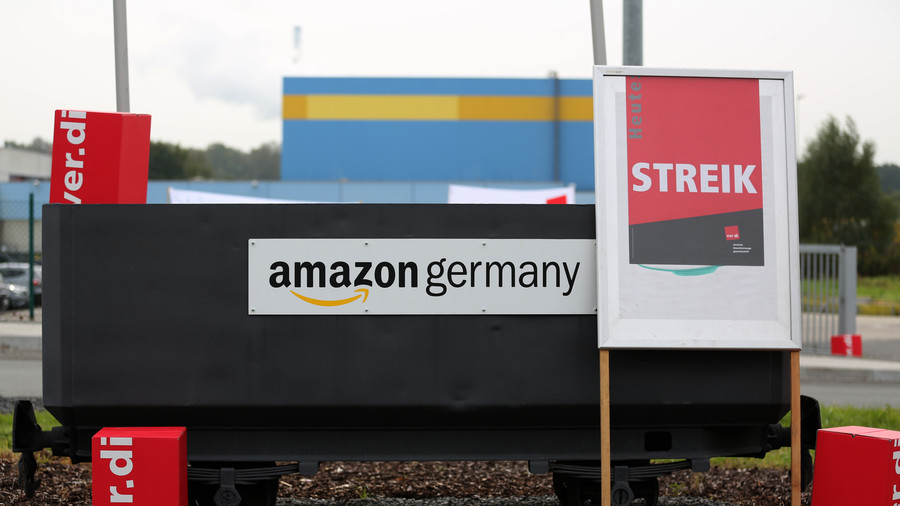 Employees at some of Amazon's European warehouses have walked out as part of a three-day strike surrounding Amazon Prime Day, one of the company's biggest promotional days, to protest working conditions.
Workers in Spain were the first to begin striking, with around 80 percent of employees at the largest logistics site in the country, located on the outskirts of Madrid, joining the action on Monday, a spokeswoman from the Workers' Commissions union (CCOO), said, according to AP. However, that figure was disputed by Amazon. Other employees in Spain, Germany, and Poland walked off the job on Tuesday, with strikes also set to continue on Wednesday.
The action is aimed at drawing attention to what workers say are poor conditions, as well as proposed cuts to wages, health benefits, and time off.
"Amazon employees have been struggling for years with health problems," a spokesperson for the Verdi trade union, which represents workers in Germany, said in a press release, citing "monotonous work and severe physical and mental stress" as causes. "Therefore, the employees demand contractually regulated measures to relieve pressure."
People across the world are boycotting Amazon in a show of solidarity with its workers, after the CCOO in Spain made the request on its Facebook page. "With no agreement, there is no Prime Day. Thanks for your support," it wrote. Calls for the boycott to extend further across Europe later circulated on Twitter.
However, in a statement to Wired, Amazon called itself a "fair and responsible employer," adding that it has provided "a safe and positive workplace with competitive pay and benefits from day one." It said it was "committed to dialogue" and "ensuring a fair cooperation with all our employees."
Claims of poor working conditions come after reports about Amazon workers in the US making such poor wages that they are forced to rely on food stamps, and employees in the UK who are not allowed bathroom breaks and therefore must urinate in bottles.
READ MORE: Online retailers must pay state sales tax – Supreme Court
The reports prompted condemnation of Amazon CEO Jeff Bezos, who is the richest man in modern history with a net worth of $150 billion, with some taking aim at the fact that he prefers to spend billions investing in space travel instead of in his own employees.
Prime Day, when Amazon offers exclusive promotions to its Prime subscribers, lasts for 36 hours and began at 3pm EST on Monday. It will continue until 11:59pm EST on Tuesday. The period is a highly lucrative one for Amazon, with Bloomberg estimating that it would make roughly $3 billion in sales during Prime Day.
If you like this story, share it with a friend!