Trump 'obsessed,' ready to escalate war on Amazon – reports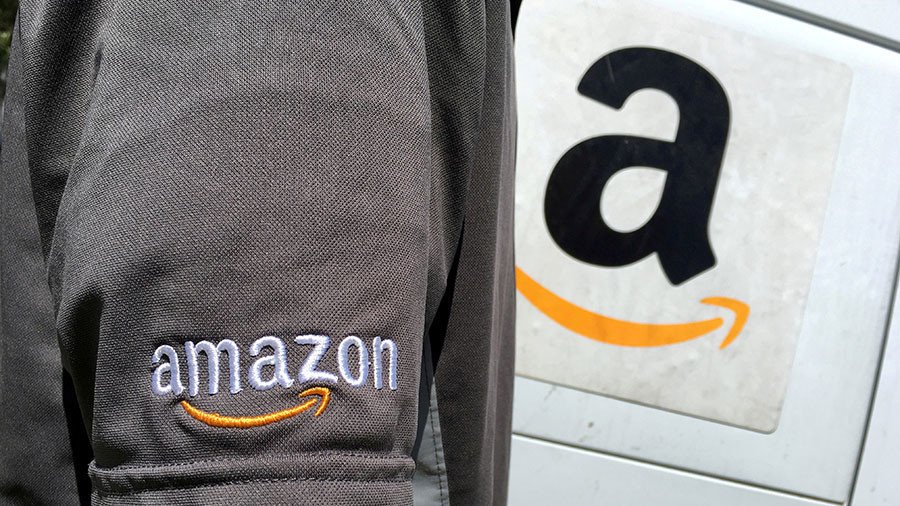 The Dow closed almost 460 points down and Amazon stock fell another 5 percent, but President Donald Trump is reportedly more eager than ever to escalate his public beef with the online retail giant.
Trump has accused Amazon of ripping off the US Postal Service and driving family-owned businesses into the ground. He has also accused Amazon CEO Jeff Bezos, the world's richest man, of using his ownership of the Washington Post to drive scathing coverage of his administration.
Now, a story in Vanity Fair quotes "sources close to the White House" saying that Trump is looking for new ways to attack Bezos.
"He's off the hook on this. It's war," one source said. "He gets obsessed with something, and now he's obsessed with Bezos," said another. "Trump is like, how can I f*** with him?"
Plans being considered by Trump include forcing the Post Office to raise Amazon's shipping costs. The president alluded to this approach in a series of tweets last week, when he accused Amazon of leeching off the US Postal Service.
While Vanity Fair's sources dispute Trump's claims, one said that the US leader remains insistent that "Amazon is getting a huge f***ing deal on shipping." In a tweet on Monday, the president asserted that "only fools, or worse, are saying that our money losing Post Office makes money with Amazon. THEY LOSE A FORTUNE, and this will be changed."
Other lines of attack reportedly considered include canceling Amazon's pending multibillion-dollar contract to provide cloud-computing services to the Pentagon, and encouraging state attorneys general to investigate Amazon's business practices.
Amazon currently collects sales tax on products it sells directly. It does not, however, collect tax on sales made by third-party sellers who use its platform. Trump drew attention to this in a tweet last week:
Third-party sales account for 51 percent of all sales made on the platform, a potentially lucrative source of revenue. Only two states, Washington and Pennsylvania, currently levy a sales tax on online marketplaces for third-party sales.
In 2017, Amazon paid roughly $200 million in state taxes, according to a filing with the Securities and Exchange Commission. The company made almost $188 billion in sales the same year.
Trump's ratcheting-up of rhetoric against Amazon is partly a response to negative coverage of his administration in the Washington Post, the sources allege. The Republican leader reportedly told advisers that he believes Bezos uses the paper "as a political weapon," and that he has "zero respect" for it.
The Washington Post's coverage of Trump's campaign and presidency has been overwhelmingly negative. The paper endorsed Hillary Clinton in the 2016 election, and according to data from a Harvard study, 83 percent of the Post's coverage of Trump's first 100 days in office was negative.
According to the study, while all major US media outlets portrayed the president's first 100 days negatively, 96 percent of the Post's discussion on Trump's fitness for office was slanted negatively. Trump suggested in one of his Monday tweets that the Washington Post should register itself as a lobbyist.
Amazon spent almost $10 billion lobbying the federal government for the Pentagon contract last year, more than Dow Chemical and ExxonMobil. In January, Bezos announced a $33 million college fund for illegal immigrants, while Trump and congressional Democrats clashed over the status of Obama's DACA program.
You can share this story on social media: