#Romanovs100 ends with VR animated music video 'Lullaby' about Tsarevich's dream (VIDEO)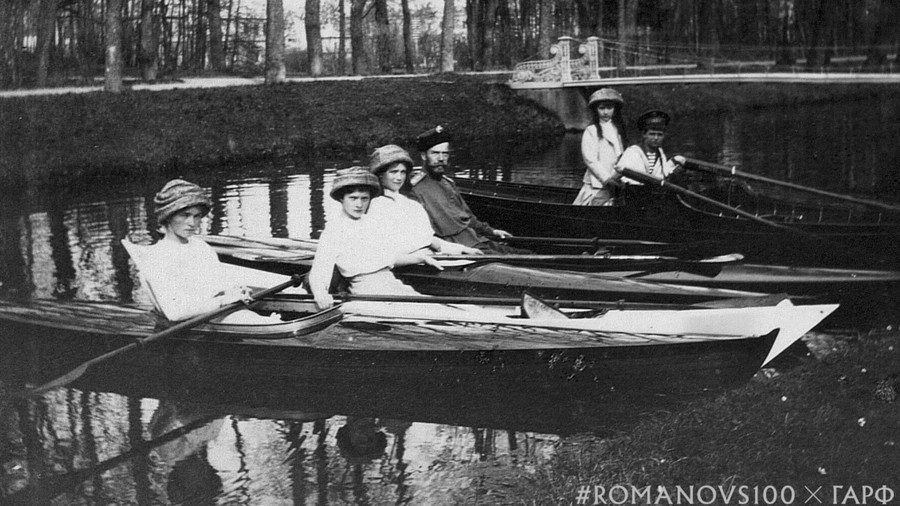 Teaming up with Great Gonzo Studios and artist Denis Semyonov, #Romanovs100 created a VR animation (in Quill) as a tribute to the Romanov family and their staff, shot by Bolsheviks on the eve of July 17, 1918.
For just over 3 months #Romanovs100 unveiled the daily lives of the Russian Imperial family through some 4,000 photos from their personal albums. On July 17, the social media phase of the project stops, marking 100 years since the events at Ipatiev House.
"Our music video is a dream of young Tsarevich Alexei - a mixture of childhood fantasies, kids' drawings, memories. It's an amazing children's world where reality is augmented with fantasy and imagination,"#Romanovs100 Creative Producer Kirill Karnovich-Valua explained the concept behind the video.
"We wanted to finish our project with a message of hope and love. Great Russian musician Peter Nalitch, who composed an impressive and diverse soundtrack for #Romanovs100, wrote a very tender and touching tune which we turned into Romanovs Lullaby," Karnovich-Valua said, adding that an original soundtrack will be released in autumn.
The February Revolution of 1917 forced Nicholas II to abdicate his throne. At first he was held captive with his family in their residence near St. Petersburg, the Alexander Palace. Hopes were still high at that point, that royal European relatives (Nicholas II's wife Alexandra was Queen Victoria's granddaughter) would lend a helping hand, but that never happened.
Nicholas and Alexandra hoped the Provisional Government would transfer them to Livadia, their lavish Crimean residence, and leave the family in peace there. Those dreams were never to come true, with the October Revolution putting an end to the government and their hopes: instead, with a minimum of personal belongings, the couple, their four daughters and son, together with their closest staff, boarded a train to Siberia, and the remote town of Tobolsk.
Conditions in Tobolsk were worse than in the Alexander Palace, yet still they found consolation in each other's company and kept their spirits high until their next transfer. This time the family was split in half: Maria traveled with her parents to Ekaterinburg first, with Alexei, Anastasia, Olga and Tatiana arriving later.
Civil war was raging across the remnants of the Russian Empire and the Bolsheviks feared that the Royal Family may fall into the hands of the White Army, boosting their morale against the communist "Reds". So with the "Whites" nearing Ekaterinburg, a decision was made to "liquidate" the Romanovs.
Reunited at Ipatiev House in Ekaterinburg, they still hoped to be saved, unaware that a murder operation was already being plotted by Commandant Yakov Yurovsky.
At night the family was woken and given orders to get ready, that they were being relocated, giving them sufficient time to dress so as not to unnerve them. The guards lied.
Eleven people, including family and staff, were taken to the basement of Ipatiev House, where they were massacred in a bloodbath of shooting and stabbing: the armed men aimed at the Tsar first, failing to shoot the women and children straight away. They tried killing the girls and Alexandra Feodorovna with bayonets, but their corsets were full of jewels they had sewn in earlier to hide them from confiscation. These "vests" acted both as protection and additional cause for immense pain: with every shot from heavy guns the jewels would dig into the women's flesh.
READ MORE: #Romanovs100 finale: Centenary of Romanov family execution (LIVE UPDATES)
When the killing was over, the floor was slippery from streams of blood and the air was thick with smoke from the guns – it was far from a clean job. The killers also shot two pet dogs, Ortipo and Jimmy, because they were making too much noise. The shooting, barking and screaming was all heard by locals, forcing Yurovsky to change his plan for the burial site.
The killers took their 11 disfigured victims to a mine shaft in the woods and threw them in, only to discover that it was too shallow. The bodies had to be pulled out, dismembered, burnt with acid and fire, and finally buried. It took Yurovsky and his men until 6am on July 19, 1918, to finish this gruesome business. Another 73 years would pass until medical expertise would identify the found remains as those of the Romanovs. A funeral would take place even later, in 1998. Alexei's and Maria's remains were discovered in 2007 and identified in 2008. They still have not been buried.
While the Russian Orthodox Church officially doesn't acknowledge these found remains as belonging to the Romanov family, they have canonized Nicholas II, his wife and five children as saints.