Pentagon relocates US Army HQ from Seoul after 70+ years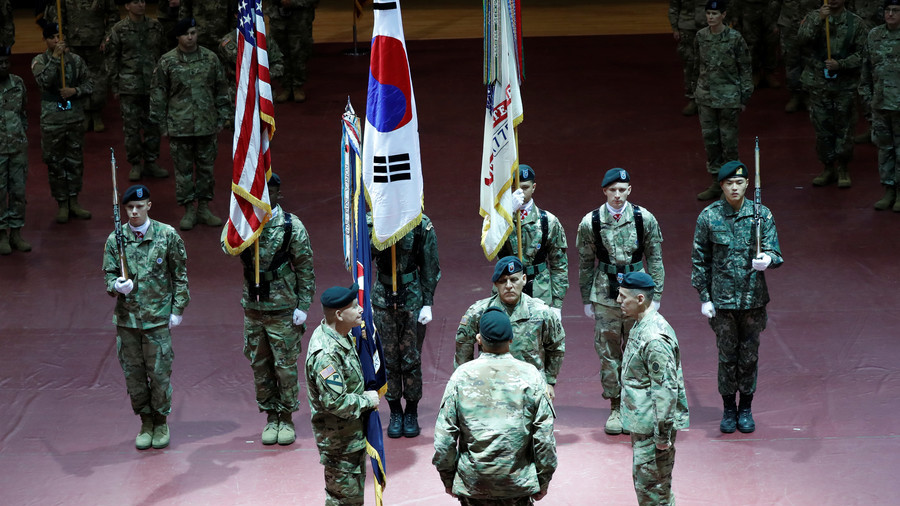 The US Army's headquarters in South Korea, located in the capital Seoul since the end of WWII, has moved to a $11bn base in the rural south – away from mass protest rallies and the North's guns.
The new United States Forces Korea (USFK) headquarters was opened on Friday at Camp Humphreys, a base near the town Pyeongtaek, about 70 kilometers (45 miles) south of Seoul, where the HQ was stationed for more than 70 years.
READ MORE: Mattis vows to maintain US troop level in S. Korea as part of 'ironclad' security commitment
USFK commander General Vincent Brooks said the relocation was "an historic and exciting event" during the ribbon-cutting ceremony. Brooks, who also leads the UN forces stationed on the Korean Peninsula, added that it "represents the significant investment in the long-term presence of US Forces Korea."
Transferring the army command center from the Yongsan Garrison in the nation's capital was welcomed by South Korea's President Moon Jae-in. The move "will ensure better conditions for USFK operations in a stable fashion," he said in a statement. Painting a bright picture of the upcoming "Pyeongtaek era" in the US-South Korean partnership, Moon expressed hope that the two nations will upgrade their bond from a "military alliance" and a "comprehensive alliance" to a "great alliance."
The agreement to move the HQ, responsible for 28,500 USFK troops, was reached back in 2004. The relocation itself was initially scheduled for 2008, but the deadline was missed and later moved several times due to construction problems at Camp Humphreys. Now the transfer process is to be finalized next year, with Camp Humphreys becoming the largest US base overseas, housing 40,000 people.
The US 2nd Infantry Division, currently stationed north of Seoul at Camp Red Cloud, is also expected to move to Camp Humphreys sometime in the future.
Moving the USFK HQ further away from the DMZ means that it will be harder to hit with North Korea's artillery whose guns are aimed across the border and capable of striking Seoul. Pyongyang has thousands of artillery pieces deployed in the area and conducts large-scale 'fire drills'.
The main command center in Seoul also served as the symbol of the US Army's presence in the country and attracted protests. Last year's tensions between Washington and Pyongyang sparked several protest rallies in the capital and other areas.
A wave of large protests against the plans to deploy THAAD anti-ballistic missile batteries in September led to clashes with the police.
Think your friends would be interested? Share this story!
You can share this story on social media: