'F***ing b***h': Passenger swears at stewardess over 'pork' in sandwich (VIDEO)
Published time: 19 Jun, 2018 13:11
Edited time: 20 Jun, 2018 12:40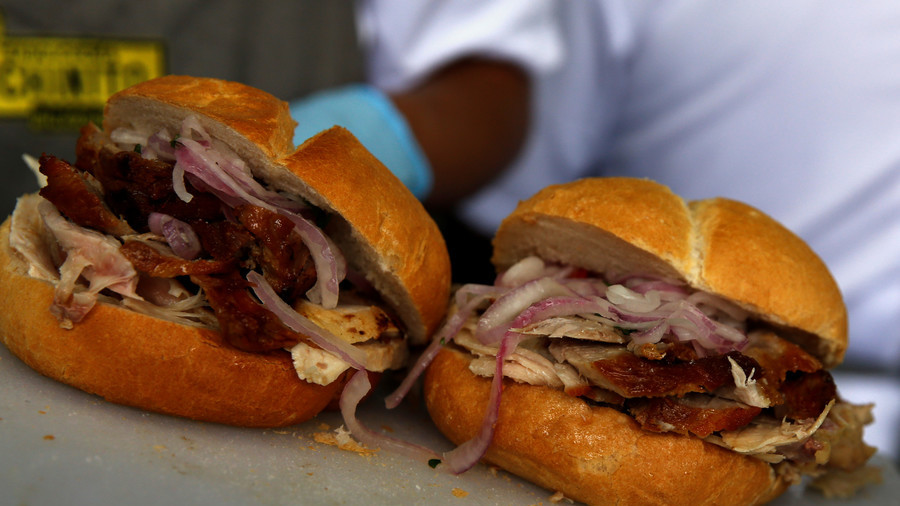 The contents of a sandwich sparked a heated debate onboard a Wizz Air flight, with footage capturing a Muslim passenger branding a flight attendant a "stupid f***ing b***h" because he thought he was served ham.
The bizarre exchange reportedly occurred on a flight from London Luton Airport to Skopje in Macedonia. A video obtained by Viral Press reveals how the passenger got into a heated debate with airline staff after he ate part of a baguette that, he believed, contained ham. The incident was filmed by another person on the plane.
READ MORE: Saudi football team plane engine 'catches fire' en-route to World Cup match (VIDEO)
The male passenger repeatedly insisted that the sandwich contained pork despite reassurances from staff that it did not. The sandwich was reportedly labelled "Turkey ham," which is a product made from cooked turkey and water that is cut into slices.
WARNING: Contains offensive language
"Listen to me, I've worked in restaurants I know what ham is. Turkey is not ham, beef is not ham, chicken is not ham. Ham is pork. It tastes like ham. I can't eat this, just give me my money back please," the angered man says.
"This is not right, you should tell people. I'm a Muslim," he added.
The situation continued for several minutes as one of the flight attendants attempted to inform the man that the sandwich did not contain pork. At one stage, a crew member says the airline has previously tested the meat to ensure the sandwich has no traces of pork.
In a statement, Wizz Air told RT.com the sandwich did not contain pork.
"We have looked into this issue and can confirm that the sandwich served to the passenger did not contain pork or any product derived from pork."
Like this story? Share it with a friend!