Not of this world? Stunning images as Russian rocket flyover awes people across country (VIDEO)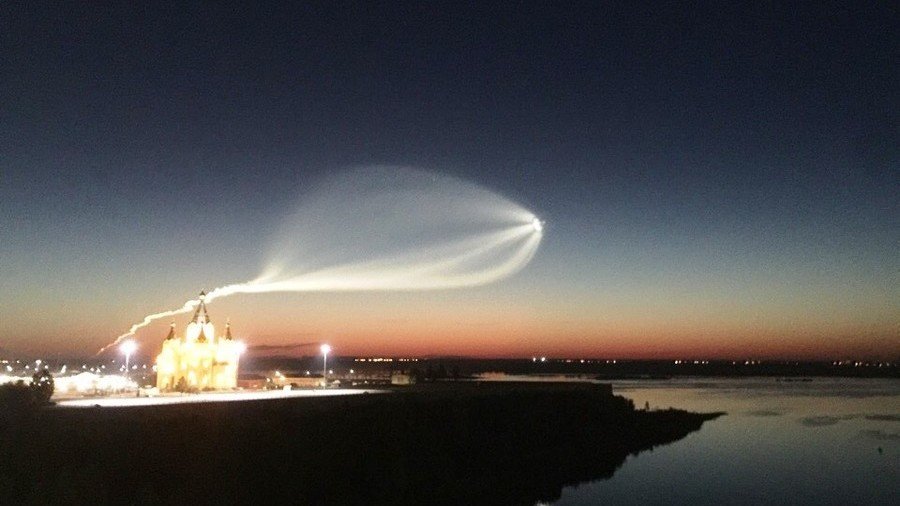 A scheduled launch of Russia's Soyuz rocket with a satellite aboard turned into quite an event in Russia after pictures of it heading into space baffled the whole country.
People across Russia took to social media to post dazzling pictures and videos featuring a mysterious object flying over them in the night to Sunday. Searching for an explanation, some said it could have been a UFO. Others said the white oval object leaving a massive trail could be a sign that Russia's state of the art ICBM Topol-M had been launched.
However, alien-seekers were left disappointed, as it turned out to be a Russian Soyuz 2.1-b rocket, which was launched at 12:46am Moscow time (21:46 GMT) from the Plesetsk test launch site. Several hours later, the carrier rocket's Fregat booster put the Glonass-M navigational satellite into orbit. The satellite will join the group of Russia's Global Navigation Satellite System (GLONASS), which currently has a total of 25 objects, one of which is currently undergoing flight tests.
Those living close to the site apparently knew what was going on and just posted pictures, commenting on the amazing view. The flyover was seen from various corners of the country, from Arkhangelsk Region to Moscow.
If you like this story, share it with a friend!
You can share this story on social media: