Dutch 'burqa ban' proposal nears final vote before expected adoption into law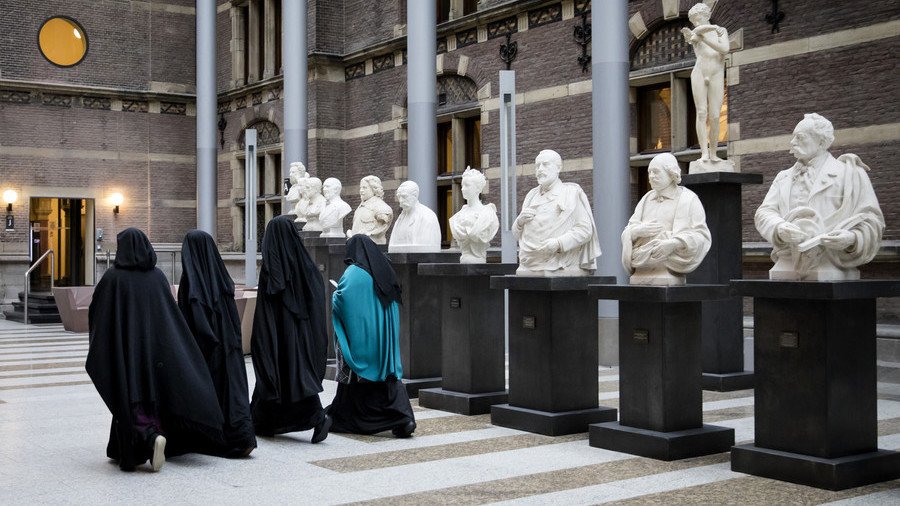 The upper house of the Dutch parliament has finally put to a vote a controversial bill banning face-covering clothes in public places, including transport and schools. Officials say it does not discriminate against religious garb.
The Dutch Senate debated the so-called "burqa ban" bill on Tuesday, scheduling it for a vote on June 19. The legislation is expected to pass the upper chamber with majority support, local media reports.
The bill would introduce a 400-euro fine on individuals covering their faces in government buildings, on public transport, in schools and in hospitals. The clothing to be outlawed includes not only burka and niqab, but non-religious apparel as well, such as balaclavas and full-face helmets. Islamic headscarves, which do not cover a woman's face, are not a subject of the ban.
The legislation is needed because of "a social interest, because people want to experience the feeling of social security," Minister of Home Affairs Kajsa Ollongren said during the debates. Face-covering garments are to be banned from the designated public places since it obstructs communication and some people are distressed when they are not able to see the face of another person, she argued. The official stressed that the legislation does not deliberately target burqa and niqab wearers.
"But a standard has to be set. Uniformity and clarity are promoted by this bill," Ollongren stated, as quoted by the NL Times.
The idea of imposing a ban on face-covering clothing has been debated in the Netherlands for more than a decade. Staunch anti-immigration politician Geert Wilders tabled the original motion in the mid-2000s. His proposal included a complete ban on the burqa and other headscarves in the civil service and in schools, but has been significantly watered down and lost its religious flavor since then.
The bill was adopted by the lower chamber of the Parliament in November 2016. Back then, it had been opposed by the Dutch government's State Council, the top advisory body, which argued that the issue of the face-covering garments did not require separate legislation. Public institutions could have introduced their own internal guidelines, prohibiting unapproved clothing, the Council argued.
Similar legislation has been adopted by a number of European countries, while in several others such laws are currently navigating the parliamentary process. France was the first EU country to ban Islamic face veils in public places in 2010. The legislation was challenged in the European Court of Human Rights, which ruled in 2014 that it does not violate religious freedoms.
Like this story? Share it with a friend!
You can share this story on social media: