Patient in medical mask stopped under burqa ban in Austria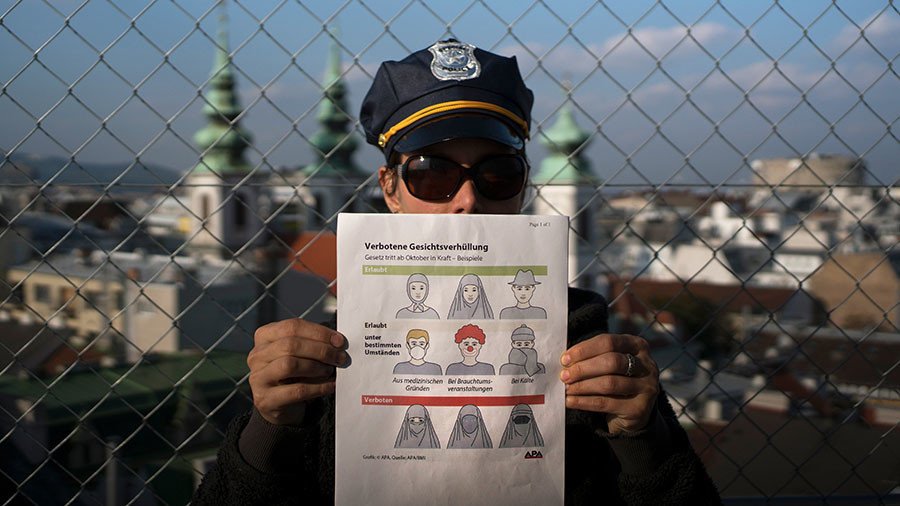 A 26-year-old leukemia patient, wearing a prescribed medical mask, was stopped by police in Vienna under a ban on the full Islamic veil and other "coverings," law enforcement officials confirmed on Monday.
Doctors told the man, identified only by his first name, Valentin, to wear his mask at all times to protect his weakened immune system, the Austria Press Agency (APA) reported. Valentin said he was stopped on April 17.
"The first thing they asked me was whether I spoke German or whether I was foreign," he told the Vice News Austrian website, as cited by AFP. "When I explained that I was from Vienna, things calmed down a bit. But then they went after my face mask."
During a "pretty grueling procedure," the man was forced to show the police his medication and blood test results on his mobile phone. He was warned that next time he would need a doctor's certificate or would face an €80 (US$98) fine.
Valentin said he told his doctor about the incident involving the medical mask. "He just laughed and said it would be obvious to anyone why I was wearing it," he said. Valentin added: "The whole thing was quite a stressful experience, but in the end, they believed me."
Police spokesman Patrick Maierhofer confirmed to APA that the man was stopped last week.
"Covering your face for medical reasons is an exception, and in such cases law enforcement officials must be given credible proof that the surgical mask is being worn for medical reasons," Maierhofer said.
"This could be done with a certificate, but also by other means. Police can decide on a case-by-case basis. In this case, the matter was sorted out after a short discussion," he added.
Austria joined France and Belgium in banning the burqa last year. The controversial ban on the wearing of Islamic face veils in public places came into effect in October, with other forms of face covering also prohibited. The measure received the go-ahead from both ruling parties, the Social Democratic Party (the SPO) and center-right Austrian People's Party (the OVP). Under the controversial law, Muslim women found wearing a burqa and face veil could be subject to a €150 (US$177) on-the-spot fine.
The law is supposed to exempt people who cover their faces for medical or safety reasons, including hazardous weather conditions such as smog. Participants of street carnivals and other "artistic, cultural or traditional events" are also exempt, along with athletes requiring face-covering gear.
Critics said the law, which was only expected to impact the 150 Austrian Muslim women that wear burqas, in other words, around 0.002 percent of the entire population, proved to be a complete failure.
"If this law was intended as a contribution in the fight against conservative Islam, I can only say: 'That didn't work out well,'" police commander Hermann Greylinger, who reportedly considers the law to be "crap,"told the Austrian Profil magazine.
You can share this story on social media: