Danish MPs greenlight ban on wearing burqa & niqab in public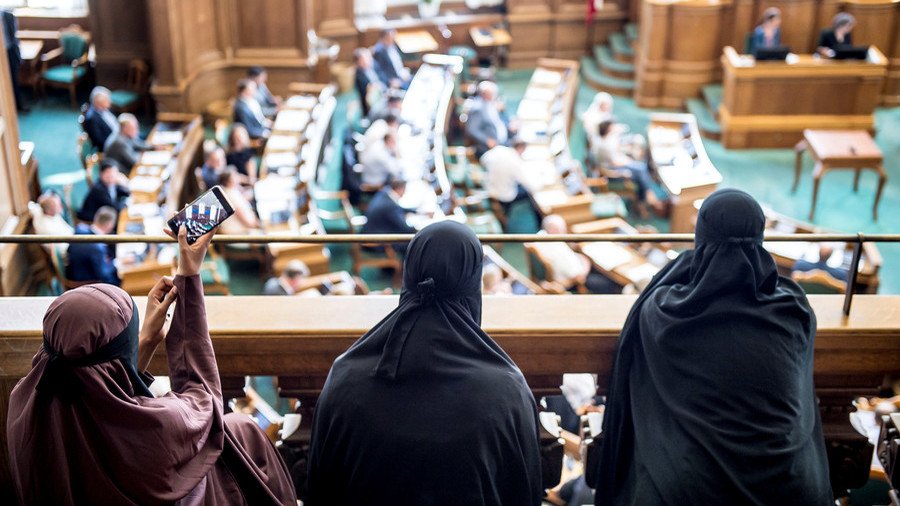 Danish lawmakers have voted in favor of a law prohibiting the wearing of full face veils, such as the niqab or burqa, in public. A repeat offender won't face prison as proposed, but could receive a $1,600 fine.
The majority of Danish MPs (75 against 30, with more than 74 absentees) adopted the law commonly referred to as the 'burqa ban' on Thursday after weeks-long negotiations. Thus the country joined other European countries, which have already introduced similar restrictions, including Austria, Bulgaria, and the Netherlands.
READ MORE: Patient in medical mask stopped under burqa ban in Austria
"It's a good day for Denmark," one of the parties that introduced the law, right-wing Dansk Folkeparti (The Danish People's Party (DPP) wrote on a Facebook page announcing the measure.
The ban comes into force from August 1. Those who violate the law for the first time will be punished with 1,000 kroner (around $160) fine. If caught at least four times, they would have to pay up to 10,000 kroner ($1,600).
The DDP proposed even harsher punishment for offenders and suggested a jail sentence for breaking the new law, but the amendment failed to draw support among the lawmakers, the Local reports.
READ MORE: 'The hammer will fall harder': Danish govt plans double punishments for 'ghetto' crimes
Amnesty International slammed the latest bill as a violation of freedom of expression. However, the MPs behind the bill hailed it as a victory in the fight against "oppressive" clothes.
Denmark has become the latest addition to the list of EU countries which introduced the controversial burqa bans in response to strong reactions from the public surrounding perceived security issues. France became the pioneer in this policy, followed by Belgium in 2011, and eventually Austria, Bulgaria and the Netherlands.
However, not all the restrictions on burqas and face veils from public spaces have needed to be enforced in the way that was envisaged. In March, when Austria's 'Anti-Face-Veiling Act' entered its sixth month since its introduction, it turned out that arrests linked to the legislation had nothing to do with religious veils.
Like this story? Share it with a friend!
You can share this story on social media: