From 'hairy' globster to 'dead mermaid': Spookiest sea creatures to wash up on beaches (IMAGES)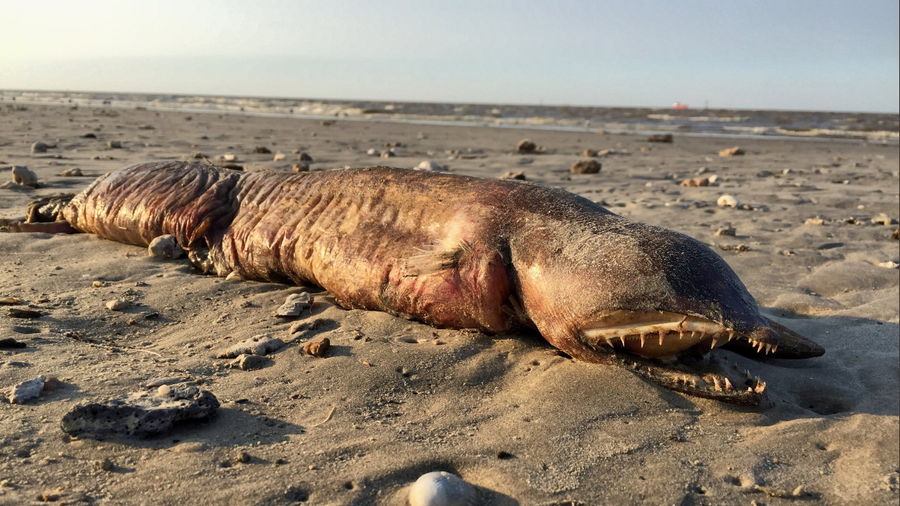 Some of the creepiest and most mysterious creatures on Earth have washed ashore on unsuspecting beaches around the world, turning them from serene havens to tourist traps for scare-seekers.
Here is a round-up of some of the most bewildering and disturbing finds of all:
Horrific 'hairy' beast
An enormous 20-foot-long dead globster that appeared to be covered in hair washed up on a beach in the Philippines in May. Locals shared footage of the beast and asked for prayers as they feared it was a sign of an impending earthquake.
While many labelled the animal a bad-smelling omen, it's more likely that the creature was a sperm whale in the advanced stages of decomposition, according to the Marine Wildlife Watch of the Philippines.
'Dead mermaid'
The rotting corpse of what some believed to be a mythical creature washed up on Great Yarmouth beach in the UK in 2016.
Footage of the disturbing find garnered over one million views on Facebook and accompanying images were shared almost 30,000 times. The fact that Paul Jones – the man who stumbled upon the half-fish monstrosity – is a member of the Facebook group 'Horror and Halloween DIY' has cast a shadow of doubt on the legitimacy of the discovery.
An alien pod time capsule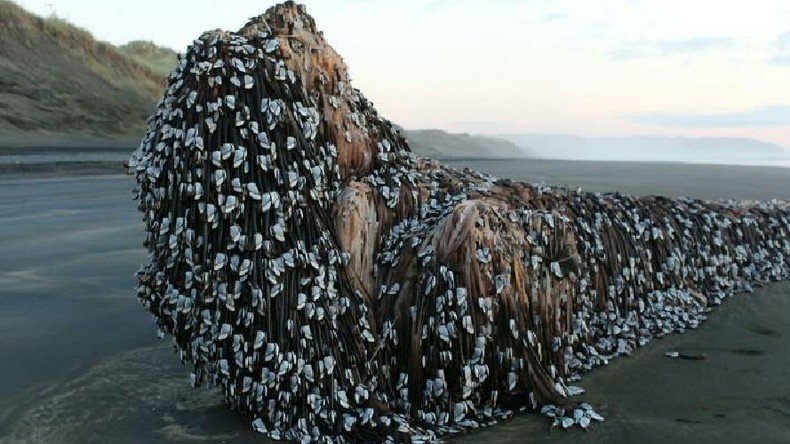 A strange barnacle-covered object washed up on Muriwai Beach in Auckland, New Zealand in 2016, leading residents to ask "What the hell is that?"
Photos of the strange phenomenon were shared on the Muriwai & Waimauku Area Community Group Facebook page and drew a variety of wild suggestions, which ranged from a "washed up whale," a "sea monster with dreadlocks," a "beach Christmas tree," and an "alien pod time capsule".
Creepy fanged sea creature
The ugly carcass of a mysterious creature washed up on a beach in Texas following Hurricane Harvey last year. "Okay biology Twitter, what the heck is this?" asked Preeti Desai from the National Audobon Society, posting a number of photos of the decaying corpse.
Rampant speculation as to what the decaying deep-sea monster could be came to a halt when Smithsonian biologist and eel specialist Dr Kenneth Tighe pointed out that it could be a species of a fangtooth snake-eel.
Ghoulish deep-sea fish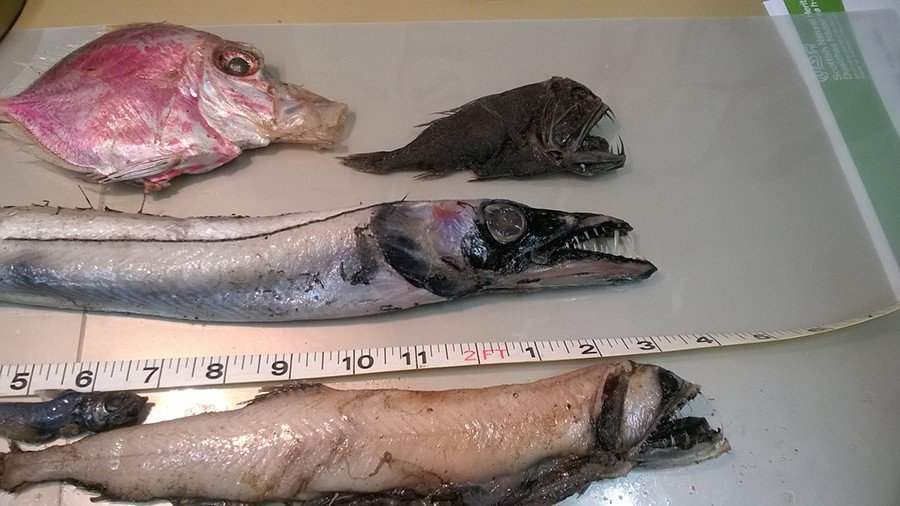 A number of nightmarish deep-sea fish washed up on a Scottish beach in January. While the collection of creatures may look like they ventured from the depths of hell, the monsters were later determined to include a dragonfish, a viperfish and a fangtooth snake-eel.
Fish that live in the pitch black of the deep ocean, some 1,000 to 4,000 meters below sea level, have been known to develop special skills to survive in their extreme surroundings that often compromise their visual appeal.
Flattened carcass
Last week, a strange 20-foot-long decomposing carcass was found washed up on a beach in Namibia by researchers from the Namibian Dolphin Project. The flat body of the weird creature had the researchers asking "Where are the bones?"
The mysterious animal was later identified as a rare type of deep-diving whale that was last spotted in Namibia in 2000. Researchers were unable to determine how the animal died, however, they did determine that it had a broken jaw which happened after its death.
Crocodile-like creature
A mysterious crocodile-like creature was discovered on Rhossili beach in Swansea, Wales by dog walker Beth Jannetta in May.
A biosciences lecturer at Swansea University said that, while the creature does look like a crocodile at first glance, its jawline suggests it's likely a whale or dolphin in the advanced stages of decomposition.
You can share this story on social media: