Horrific 'hairy' creature washes up on Philippine beach (PHOTOS)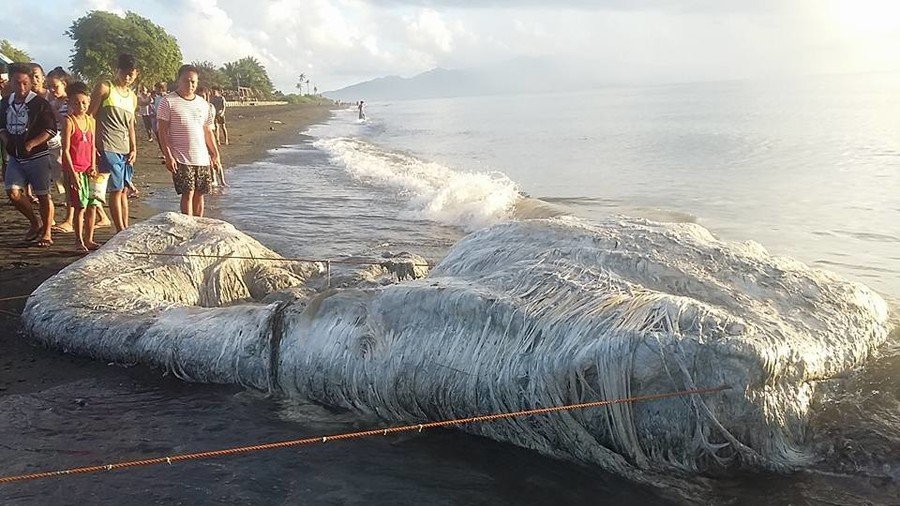 An enormous dead creature seemingly covered with hair has washed up on a beach in the Philippines, inciting some locals to ask for prayers in fear of impending doom.
The 20-foot-long (sic-meter-long) globster - an unidentifiable organic mass - washed ashore in Barangay, San Antonio, in the Oriental Mindoro province of the Philippines on Friday night.
Local Tam Maling, who was one of the first to witness the beast, asked people on Facebook to "pray for us," as he feared the creature was a sign of an impending earthquake. While Maling's theory might seem dramatic, a 2017 earthquake did push some strange carcasses to the surface, including one which closely resembles Friday's discovery.
READ MORE: 'Shy but intelligent': Fish with 'human teeth' caught in South Carolina (PHOTO)
Locals described the giant creature as a bad-smelling mystery, however, the most likely explanation for the creature is that it is actually a whale in the advanced stages of decomposition, "probably a sperm whale," according to the Marine Wildlife Watch of the Philippines.
In fact, a very similar creature washed up on a separate beach in the Philippines in February of last year, and again in October 2016. While it reportedly sparked "rumours of the discovery of a new species," it was also found to be a species of whale.

Like this story? Share it with a friend!
You can share this story on social media: