PHOTOS of strange winged creature prompt 'angel' sighting debate online (POLL)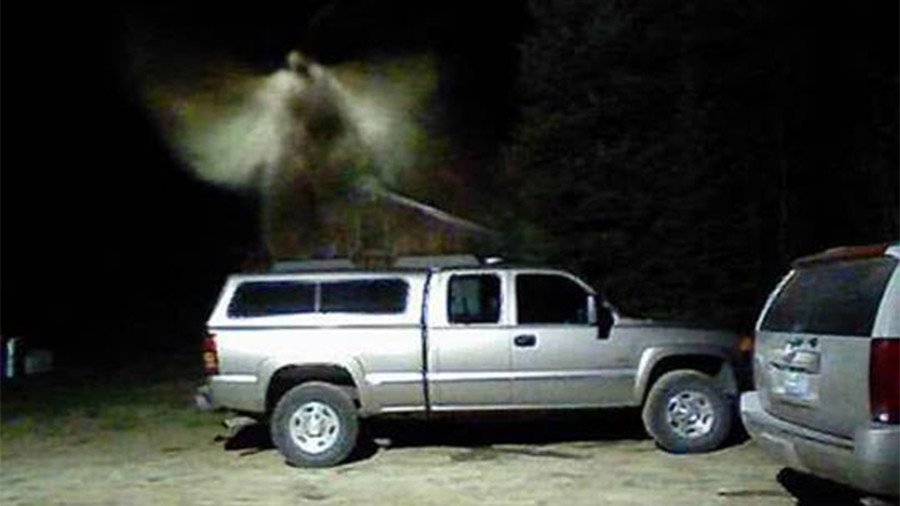 A small community in northern Michigan believes it has been touched by an angel after a motion-sensor camera captured a mysterious object apparently looming over a parked vehicle. People online, however, remain unconvinced.
According to the local church in East Jordan and the man whose camera detected the presence, the image clearly shows a head and wings.
READ MORE: 'Not today, Satan': Internet reacts in horror over couple's freaky selfie (PHOTO)
"I said, 'That's an angel!' And I was just blown away," Glen Thorman, a fire chief, told local TV station 16WNDU. Thorman quickly contacted his wife and pastor to share news of the find.
Jordan Rivers Church posted the pictures on its Facebook page, saying the photos had not been altered, and sparked a debate over what the camera had really captured.
"It was really clear to me the minute I looked at the photo," said Pastor Deneille Moes of Jordan Rivers Church. "I just kind of freaked out a bit. I went like, 'Whoa! That's an angel!' And I texted him back, 'That's an angel.' There wasn't any doubt in my mind that we were looking at something supernatural."
While the logical explanation for the 'figure' points towards a moth, many locals remain convinced that they've received a sign from heaven.
READ MORE: 'Something just passed over us': 2 pilots report 'UFO' sighting over US (LISTEN)
The Facebook post led to arguments among people who pointed to potential tricks of photography or dismissed the images as simply a fluttering insect coming close to the lens. However, other commenters said that – although they don't buy the angel explanation – they're glad some people find comfort in interpreting the shape as a benevolent being watching over them.
But what do you think the camera captured?
If you like this story, share it with a friend!


You can share this story on social media: