'No leader is forever': Macron strikes hostile tone against Trump, says US can be kicked out of G7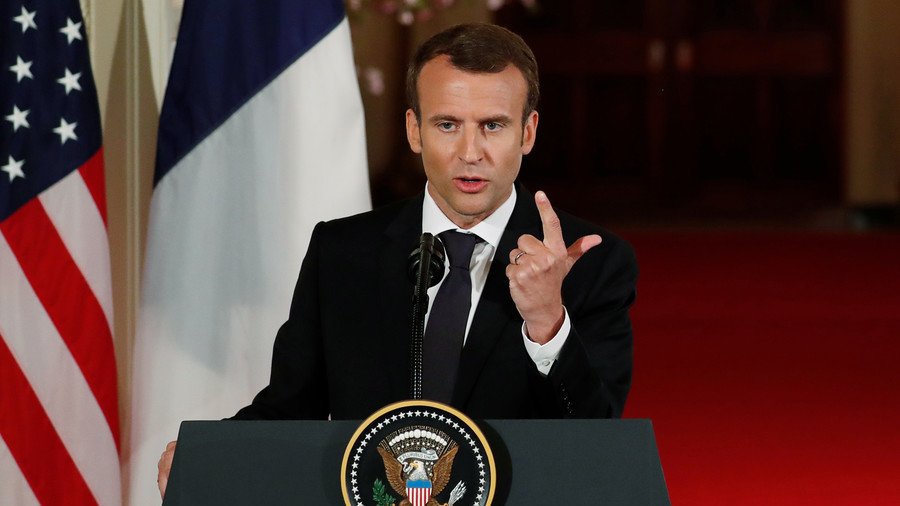 If Donald Trump doesn't care about "being isolated," then G7 may be better being G6, says Emmanuel Macron. The French president slammed US counterpart for "unproductive" tariffs and preventing other nations from dealing with Iran.
When reporters asked Macron on Thursday if the problem with Trump was that he "didn't care" about being isolated, Macron struck a hostile tone, reminding the media that no president "is forever."
"The six countries of the G7 without the United States, are a bigger market taken together than the American market," Macron said, standing alongside Canadian Prime Minister Justin Trudeau. "Maybe the American president doesn't care about being isolated today, but we don't mind being six, if needs be."
Macron's comments come as the leaders of the G7 countries are preparing to meet at a trade summit in Canada, which analysts expect will turn into a showdown on trade deals, given Trump's repeated insistence that the US has the "worst trade deals ever made."
The French leader also slammed Trump's recent decision to impose import tariffs on steel and aluminum from Europe, Canada and Mexico.
"I would like to say Mr. Trump that the measures taken are counterproductive. We can't engage in a trade war against friends," he said while branding the US move as "unilateral and illegal."
"A trade war doesn't spare anyone. It will start first of all to hurt US workers, and the cost of raw materials will rise, and industries will become less competitive," Macron warned.
Macron had previously attempted to strike a more conciliatory tone with Trump and was even dubbed the "Trump whisperer" by some in the media. Now, he went on to say there would be no "world hegemony" and that the six other countries, excluding the US, represent "a real force at the international level" today.
Isn't it Ironic? Getting ready to go to the G-7 in Canada to fight for our country on Trade (we have the worst trade deals ever made), then off to Singapore to meet with North Korea & the Nuclear Problem...But back home we still have the 13 Angry Democrats pushing the Witch Hunt!

— Donald J. Trump (@realDonaldTrump) June 7, 2018
The increasingly hostile public tone follows a phone conversation last week between Macron and Trump, which sources told CNN was "really bad" and "terrible." Asked to comment on those reports, Macron compared the call to "sausage-making" and quoted the 19th-century Prussian statesman Otto von Bismarck, who famously said that "if we explained to people how sausages were made, it's unlikely they'd keep eating them."

"So I like it when people see the finished meal, but I'm not convinced the kitchen commentary helps with delivering the meal or eating it," Macron said.
Despite early hopes, Macron has not had the influence on Trump that some were expecting. He was forced to watch on as the president dropped out of the Paris climate accord and tore up the Iran nuclear deal, which Europe had desperately hoped the US would abide by. Trump's move to impose tariffs on imports of steel and aluminum from the European Union, Canada and Mexico seems to have been the last straw, however.

Maybe it all started to go downhill during a French state visit to Washington in April, when Trump publicly brushed a "little piece of dandruff" off the French president's jacket, announcing to reporters in the room that it was just an attempt to "make him perfect."
Trump should not prevent 'other people' from keeping Iran deal
Macron also said today, that the US should not prevent other nations from keeping the 2015 Iran nuclear deal, warning Washington against pushing Iran itself out of the agreement.
"If you are not comfortable with the agreement [on Iran] signed by your predecessor, do not prevent other people from keeping it and do not push Iran out of it. That is the best option we have today," Macron said during the joint press conference with Trudeau.
However, the French leader apparently did not also rule out amending the deal by what he called reaching a "broader agreement" with the Islamic Republic, which would particularly cover its activities in the region. "We will have to work all together on a broader agreement with Iran and [other] countries in the region, our allies," he said, apparently referring to the Gulf monarchies.
"We have to look at the future there, we have to look at what happens in Syria, Iraq and Lebanon and we have to find a way to work in this extremely tense context," he added. At the same time, the president also praised Trump's decision to hold a meeting with the North Korean leader Kim Jong-un.
"We will all be behind him [Trump] and will support him in this essential initiative and in the fight for the global denuclearization," Macron said, commenting on the issue, adding the caveat that he wanted Trump to be "credible on the nuclear situation in Iran" as well.
You can share this story on social media: