Bio-bots on horizon as scientists merge muscle cells with metal skeleton (VIDEO)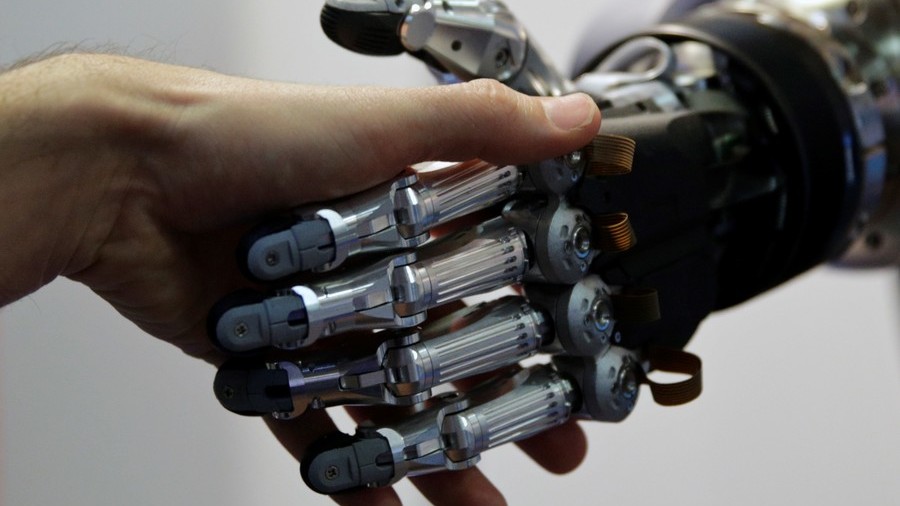 Fleshy bio-robots are some way off the stacked physique of Arnold Schwarzenegger's 'Terminator,' but research in a Tokyo lab could see androids fitted with working muscle mass to rival the Hollywood killing machine.
Whole areas of tech and scientific research are currently engrossed in making robots more life-like. Experimentation has led to contraptions like the running humanoid Atlas and AI sex doll Samantha.
Now, engineers at the University of Tokyo have demonstrated a way to maintain living tissue on a robotic joint, raising hopes for those studying prosthetics and the future of cyborgs.
READ MORE: Humanoid robot Atlas can jump over obstacles and hunt you down (VIDEOS)
Featured in the Science Robotics journal, the biohybrid study involved building living cells into fully-functioning skeletal muscle tissue. To do this, Japanese researchers constructed a metal and plastic robot skeleton fitted with electrodes.
Hydrogel sheets filled with muscle precursor cells were then attached to the robot skeleton anchor joint allowing it to flex and move through the power of the electrodes.
According to the university, the muscle-robot hybrid that was tested resembled a human finger and successfully picked up and moved a ring.
"Once we had built the muscles, we successfully used them as antagonistic pairs in the robot, with one contracting and the other expanding, just like in the body," said Shoji Takeuchi, one of the study's authors. "The fact that they were exerting opposing forces on each other stopped them shrinking and deteriorating like in previous studies."
READ MORE: Sex dolls uncovered: The kinks, quirks and risks of building robolove (GRAPHIC VIDEO)
Lead author Yuya Morimoto predicted future developments could yield muscle machine hybrid hands, arms and even legs.
"If we can combine more of these muscles into a single device, we should be able to reproduce the complex muscular interplay that allow hands, arms, and other parts of the body to form," he said.
Like this story? Share it with a friend!