Humanoid robot Atlas can jump over obstacles and hunt you down (VIDEOS)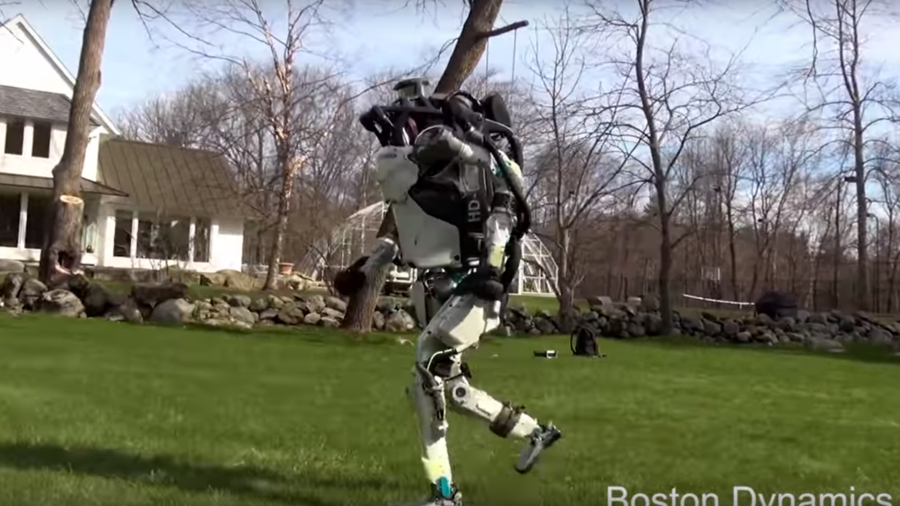 Freshly released videos show that robots created by Boston Dynamics are learning a host of new skills, including running outside, jumping and autonomous navigation.
In one of the videos, the barrel-chested humanoid robot Atlas is seen jogging around a yard. The machine's relentless running style and powerful frame suggests that, if it speeds up a bit, it might have a future chasing down criminals on city streets.
The battery-powered robot is 1.5 meters tall and weighs 75kg. It uses LiDAR and stereo vision to assess its surroundings. The footage shows it running on surfaces that appear to be sloped and uneven, something robots have struggled with in the past.
Atlas' LiDAR technology is the same as that used to help scientists discover a secret chamber in the pyramids of Giza last year.
READ MORE: 'Breakthrough' discovery inside Giza Pyramid baffles scientists
Atlas is also seen jumping over a log. However, its awkward movement in completing the task suggests that it has a way to go before it will be able to easily deal with all the obstacles it might encounter in the wild.
The robotics and engineering firm also released a new video featuring its most famous creation, SpotMini, which famously went viral after footage of it opening a door emerged. That revelation sparked a flood of reaction which suggested, not all of it jokingly, that a robot apocalypse was nigh.
People who were alarmed then will have even more cause for concern now, as the strange four-legged machine has learned to run around the office autonomously and can even climb down the stairs.
Like this story? Share it with a friend!
You can share this story on social media: