Porshe parking nightmare: Valet's disastrous maneuver wrecks sports car (VIDEO, PHOTOS)
Published time: 31 May, 2018 10:13
Edited time: 1 Jun, 2018 08:38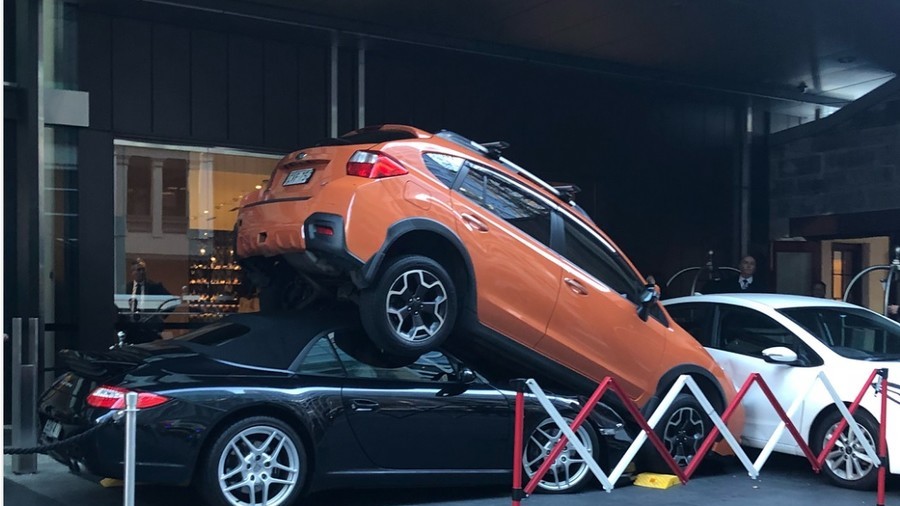 One hotel valet certainly won't be getting a tip after he crushed a Porsche Carrera in a failed attempt at parking which saw him wedge the sports car underneath another vehicle.
The valet had to be cut out of the sports car and was "embarrassed and a little bit shocked," the hotel's director of sales and marketing told ABC.
The bizarre collision happened at the Hyatt Regency Hotel in Sydney on Wednesday, as the valet attempted to park the Porsche but ended up wedging its hood right under an SUV. According to witness Jonathan Bouzaid, the valet "must have panicked and hit the accelerator causing the Porsche to go further under the orange car."
The force then caused the SUV to hit a white car in front of it. Emergency services were called to the scene. The SUV had to be propped up with poles in order to free both the valet and the crushed Porsche.
Police helped the valet climb out of the Porsche when it was still wedged, and video shared by the Redfern Fire Station shows the moment the valet escapes the vehicle through the car's shorn roof.
The valet was unhurt in the incident – although his pride was likely bruised. The hotel insurance is expected to cover the cost of the damage.
Like this story? Share it with a friend!