Germany wants to extradite Catalonia's independence leader Carles Puigdemont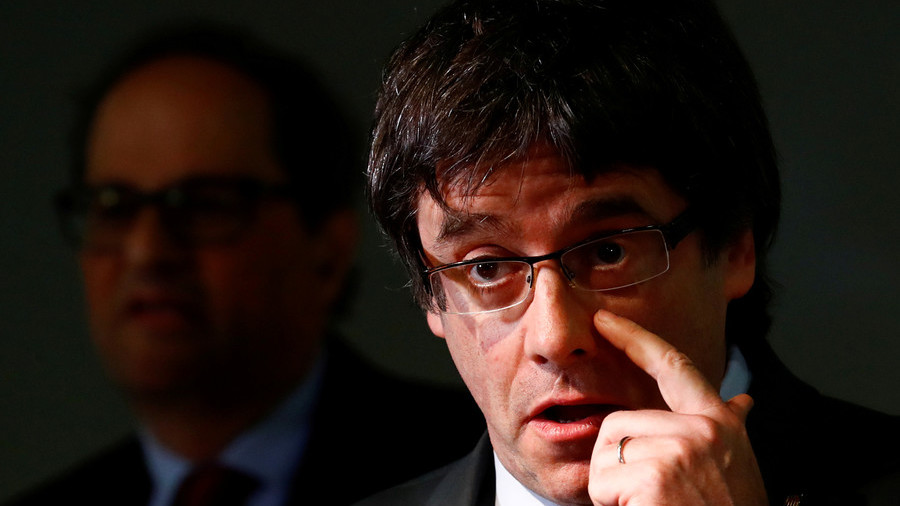 Ex-Catalan leader, Carles Puigdemont, one of the leaders of the region's secession movement wanted in Spain on rebellion charges, will most likely be extradited from Germany on lesser charges.
Prosecutors of the higher regional court in Schleswig-Holstein stated that they were preparing the necessary paperwork to allow the extradition of Puigdemont to Spain. He was released on bail on April 6 in Berlin while pending a decision.
The former president of Catalonia, and other separatist leaders, led the succession movement to assume direct control of the region and bypass Madrid, causing dissatisfaction with the central government.
In an earlier statement, the German court insisted that while he could not be extradited on charges of rebellion, he could be forced to return to Spain if he was accused of corruption and the misuse of public funds. A final decision has yet to be made.
Since he was detained in March on an international arrest warrant while crossing the German-Danish border, Puigdemont has been fighting extradition from Germany on various charges from rebellion to the misuse of public funds, all of which were related to the organization of a referendum on October 1st 2017 that led to a unilateral declaration of independence.
Earlier the German court had clarified that rebellion was not a criminal offense and the charges of high treason were unfounded due to the lack of evidence. On Tuesday the court stated that they came into possession of videos that could allegedly prove violence against Spanish police, which could be interpreted as treason and the violation of peace.
The Schleswig-Holstein state prosecutor is advancing his case for the extradition of Puigdemont. However, the state's top court ruled that he cannot yet be rearrested.
Outraged by the central government's attempts to suppress the process of peaceful succession, Catalan residents took to the streets of Barcelona and other towns protesting against violent political crackdown.
The quelling of dissent has continued largely uninterrupted since October's referendum while new clashes broke out after Puigdemont's arrest in March when riot police responded by firing warning shots and by throwing cans and glass bottles into the crowd.
Catalonia's new separatist leader says he's just a "caretaker president" until exiled Carles Puigdemont can come back to take over.
After having going for five months without a leader, Catalonia has recently elected a new president. The choice fell on Quim Torra, Puigdemont's nominee, who has shown enthusiasm for the idea of free Catalonia. He was elected on 14 May by 66 votes to 65. The new Catalan leader promised to work towards a Catalan republic and referred to Puigdemont as the legitimate leader of the region.
Torra's government is expected to last until December when his predecessor suggested he would like new elections to be held.
Germany and EU stay away from the Catalan dispute
Initially, the former president fled to Belgium, where he hoped to receive support from the EU. That call was however left unanswered as no European government leader met him to support the region's secessionist aspirations.
Germany, represented by the chancellor Angela Merkel, was faced with a great problem after Puigdemont's arrest. Alexander Graf, a member of Parliament, suggested that while "legally, the arrest of Mr. Puigdemont is not objectionable, politically it creates great problems".
READ MORE: 'Obliged but opposed': Sturgeon powerless to stop ex-Catalan ministers extradition to Spain
He criticized the country for getting involved in "the internal Spanish constitutional conflict", emphasizing that neighboring Belgium "has avoided" this situation "as far as possible."
Meanwhile the Scottish government protested at Madrid's use of a European arrest warrant in a political dispute after it was issued for one of Puigdemont's ministers, Clara Ponsati. Academic Ponsati subsequently handed herself over to Scottish police.
Scotland's First Minister, Nicola Sturgeon, said that although her government supported "the right of the people of Catalonia to determine their own future", Scotland was "legally obliged" to comply with the international arrest warrant.