Catalan ex-leader Puigdemont can be extradited for corruption, not rebellion – German court
Published time: 5 Apr, 2018 17:08
Edited time: 6 Apr, 2018 09:17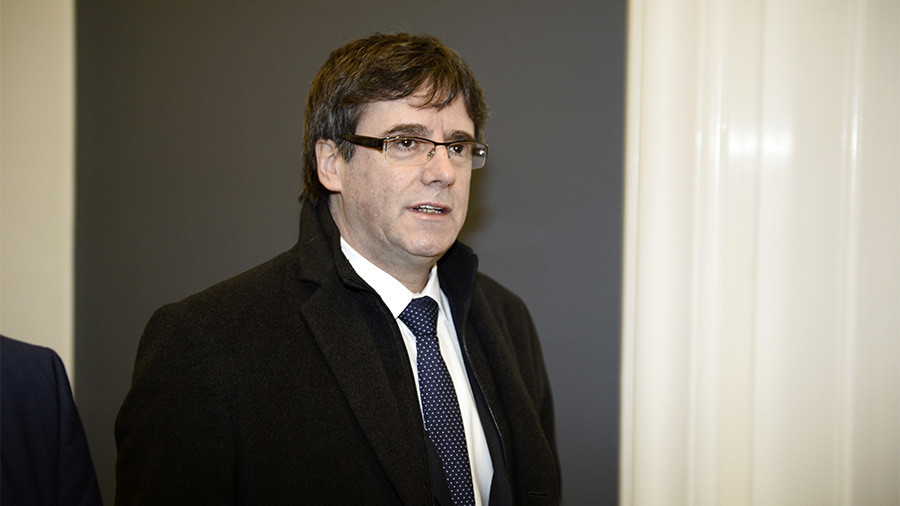 Carles Puigdemont, the former leader of Catalonia, under investigation over the Catalan push for independence from Spain, can be extradited on charges of corruption, but not rebellion, the German court hearing his case has ruled.
Rebellion is not a criminal offence in Germany, the court said, and the charge of high treason was unwarranted, due to the lack of a violent aspect to Puigdemont's actions. Proceedings to decide whether to grant extradition on corruption charges may continue, however.
The court has also ruled that Puigdemont can be released on bail of €75,000, pending the final decision. While a flight risk exists, it is lessened by the unfeasibility of the rebellion charges.
Puigdemont was arrested last week under a European warrant, issued by Spanish authorities over his involvement in the October 2017 referendum on whether Catalonia should be independent from Spain. That vote, resulting in a massive win for the 'leave' side with a below-50 percent turnout, was ruled illegal by Madrid.
Of the charges leveled against Puigdemont by Madrid, corruption is the least serious, with a potential six-year prison sentence. The most serious charge, rebellion, could see him imprisoned for 30 years.
Puigdemont's arrest triggered a new wave of protests in Catalonia, with hundreds of pro-independence activists blocking major roadways to demand his release. Riot police were deployed to disperse the demonstrators, reminiscent of Madrid's initial reaction to the October 2017 referendum. Back then, Human Rights Watch (HRW) determined that the Spanish national police had used "excessive force towards peaceful Catalans expressing their political opinion."
Five other prominent pro-independence Catalan politicians remain jailed by Madrid, including Jordi Turull, the leading candidate to be the next president of Catalonia. A total of 13 are to be put on trial on charges of sedition, rebellion and over various links to the referendum. Twelve more will be tried for alleged embezzlement or for disobeying the state.
After the referendum, Puigdemont fled to Belgium with a number of officials from his government. Some of them returned to Catalonia shortly afterwards and were apprehended on Madrid's orders, while others remain in self-imposed exile. The ex-leader's arrest was made possible by a trip to Finland that he made for talks with lawmakers. He was detained on his way back, after crossing the border from Denmark to Germany.