Hundreds of thousands demand release of independence leaders in Barcelona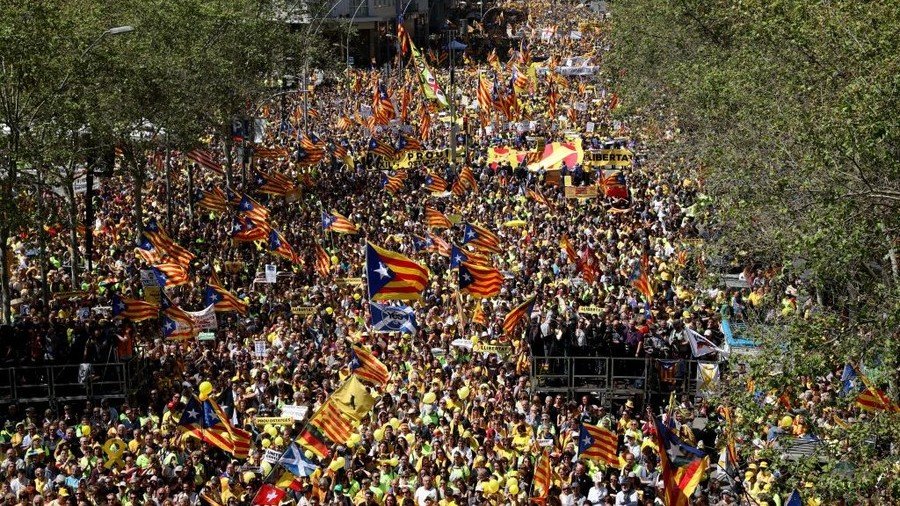 More than 300,000 took to the streets of Barcelona on Sunday to demand that the Spanish government in Madrid release the Catalan independence movement leaders that are being held in detention ahead of the trial.
The protesters, carrying numerous Catalan flags, walked behind a huge banner reading: "For rights and liberties, for democracy and unity, we want them back home!" Many in the crowd also chanted: "Freedom for the political prisoners."
The police said that around 315,000 people participated in the march in central Barcelona.
The rally was organized by the National Catalan Assembly and Omnium pro-independence groups, whose leaders, Jordi Sanchez and Jordi Cuixart, were arrested in Madrid six months ago. Sanchez and Cuixart may face up to 30 years in prison on rebellion charges.
"The majority of Catalans, regardless of their political position, agree that pre-trial jail is not justified," Camil Ros, the leader of the Catalan branch of the UGT trade union, which also supported the protest, said. "What we as labor unions are asking for now is dialogue."
Nine Catalan politicians are currently awaiting trial for their role in an attempt by the wealthy region to gain independence from Spain last year.
READ MORE: Catalan ex-leader Puigdemont can be extradited for corruption, not rebellion – German court
Some other activists were forced to leave the country, while Madrid is also pushing for the extradition of the former president of Catalonia, Carles Puigdemont, from Germany.
Catalonia declared its independence from Spain in October after 90 percent of the voters supported the move in a referendum.
READ MORE: Protests erupt after detention of Catalan independence activist charged with 'terrorism'
However, Spanish authorities declared the plebiscite illegal and launched a crackdown on the pro-independence movement. Catalonia has been put under Madrid's direct rule since then, with the region's new leader to be elected on May 22.
If you like this story, share it with a friend!
You can share this story on social media: