'Real horror': 'Eccentric' artwork on iconic French castle enrages locals (PHOTOS)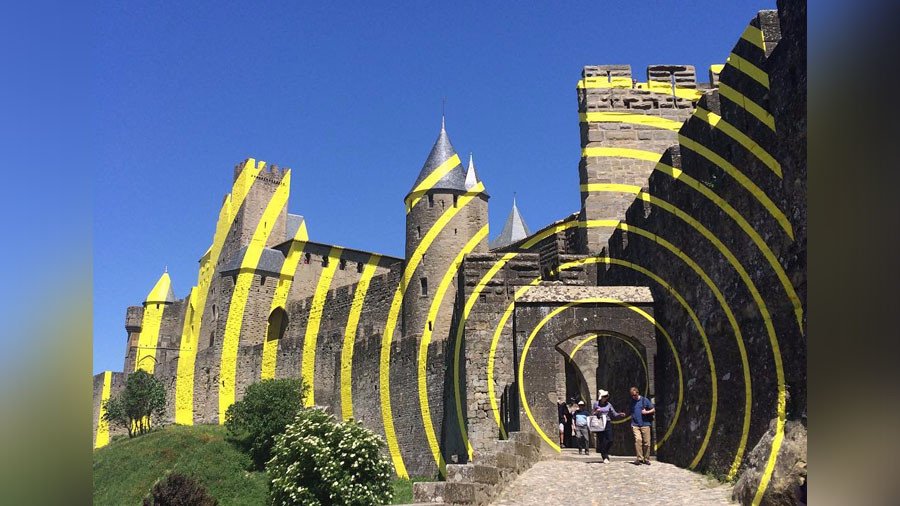 A swirl of yellow circles have appeared on the ramparts of Carcassonne Castle as part of a contemporary art project. The paint work has added a dizzying flourish to the historic walls but not everyone is pleased.
Yellow painted bands can now been seen effectively hugging the castle walls, as part of an art exhibition approved by France's National Monuments Center. While it has proved popular with visiting tourists eager to get a snap of the spiralling artwork, some locals have become in enraged calling it 'ugly' and 'terrible'.
I wasn't sure about this yellow art installation on the walls of Carcassonne - until I saw it from the one spot where it made sense. Now I'm wondering how to adapt it for a 1930s semi. pic.twitter.com/rFLFOnBkET

— Clare Chambers (@ClareDChambers) May 10, 2018
A number of people have complained about the local government allowing the city walls of Carcassonne, a former Roman fortification dating back to the fourth century, to be 'defaced'.
"It's a terrible thing," one person told the monument center on Twitter. Another added: "It's just shocking and degrades the beauty of the surrounding site. Just outrageous."
Pour admirer, il faudrait que cela soit beau. C'est juste choquant et cela dégrade la beauté du site environnant. Juste scandaleux. Qu'il fasse des tracés de compas à la Défense.#Carcassonne

— JF Cuignet (@jfcuignet) May 10, 2018
"A real horror, I am ashamed. Our poor city," a third added online.
Une vrai horreur, j'ai honte !! notre pauvre cité...

— Warthock-HEAT.305.RKO (@Warthock_H305R) May 10, 2018
A petition opposing the artwork launched in April and it has garnered more than 2,000 signatures.
READ MORE: Banksy mural in Calais erased during building revamp (PHOTOS)
"It is very clear to me, and I think to many others, that these circles have nothing artistic [and] only disfigure," the author of the petition writes. "What will tourists who come to see the city of Carcassonne for the first and last time think? It looks like a target. Did the Cacassonnais have their say? As on many subjects, no."
Contemporary Swiss artist Felice Varini produced the quirky project, dubbed 'Eccentric Concentric Circles,' which is set to be in place until September this year.
"Thanks to the fineness of the [yellow] bands, the work perfectly matches the details of the stone and slate that make up the city," Varini told La Depeche newspaper. "I could never have had this result other than at the city [of Carcassonne]."
Asked about the criticisms, he added that he is happy about interactions with the art. "It's always interesting to confront other opinions."

Like this story? Share it with a friend!
You can share this story on social media: