Banksy mural in Calais erased during building revamp (PHOTOS)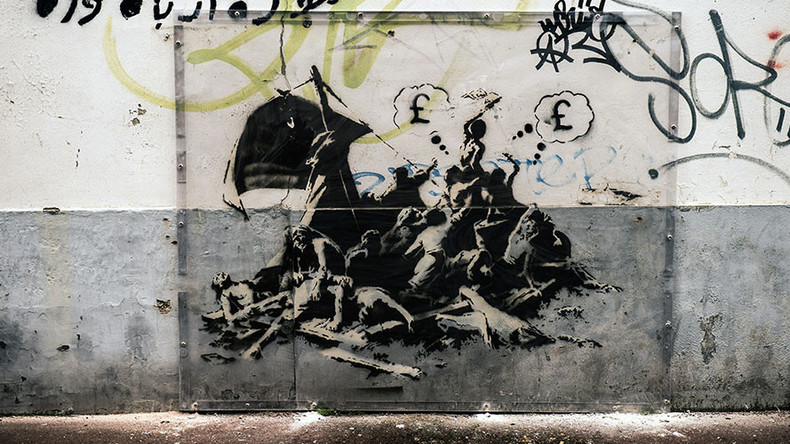 A Banksy mural depicting lost at sea refugees has been erased from a building in Calais after the owner opted to cover it with a new lick of paint.
Banksy's art piece, which portrayed the humanitarian crisis through a reworking of oil painting 'The Raft of the Medusa' by Théodore Géricault, appeared in 2015.
It was one of three images produced in Calais by the secretive British artist. Each one related to the migrant crisis, including a mural of Apple founder Steve Jobs, the son of a Syrian migrant, fleeing with a Mac computer.
The modernised take on the Géricault painting showed refugees on a raft, lost at sea and attempting to flag down a passing vessel.
The painting was cited on Banksy's website and included the caption: "We're not all in the same boat."
It has now been destroyed and a photo of the Rue del la Tannerie wall reveals no trace of the iconic mural.
While some people would happily pay big money to have a Banksy artwork, Georges Lagouge, who owns the building on which the mural was painted, said the wall had become littered with less welcome attempts at graffiti.
READ MORE: New Banksy? 'Yuge' anti-Trump murals appear on West Bank separation wall
"The wall was in a very bad state, and there was graffiti and part of the Banksy work had already been sprayed over," he told The Local France.
"I would have been happy to have it preserved but I contacted the town hall to ask them if they wanted to look after it and nobody got back to me."
RT.com has contacted Calais town hall for comment.
You can share this story on social media: