Netanyahu compares Iran to Nazi Germany during V-Day talks with Putin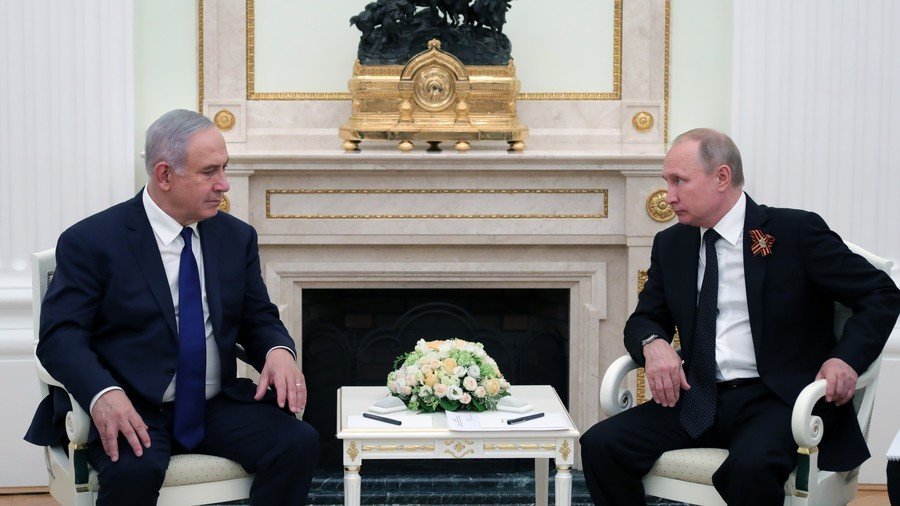 Israeli Prime Minister Benjamin Netanyahu has used the Victory Day celebrations in Russia to push his idea that Iran is a threat. This time, he virtually likened the Islamic Republic to Nazi Germany.
"It is hard to believe that, 73 years after the Holocaust, there is still a country in the Middle East – Iran – that openly calls for the destruction of the State of Israel," Netanyahu said during the talks with the Russian President Vladimir Putin after both leaders took part in the Victory Day celebrations in the Russian capital.
The Israeli prime minister went on to say that his country still remembers "an important history lesson: when a murderous ideology emerges, one has to push back against it before it is too late," apparently drawing parallels between Nazi Germany and Iran over their antagonism towards Jews. He then added that the present situation significantly differs from the one in the 1940s, as the Jews now have their own state.
Netanyahu made his statements as the two leaders discussed bilateral relations, as well as the situation in the Middle East. Putin described the situation in the region as "very tense." He also expressed his hope that Russia and Israel would eventually find "solutions that would lead to the easing of tensions and would allow resolving heated conflicts."
It is not the first time that the Israeli prime minister compared the Islamic Republic to Hitler's Germany. In December 2017, he already said that the Third Reich and Iran "do have… important things in common," including "ruthless commitment to murder Jews."
The talks between Putin and Netanyahu took place just a day after US President Donald Trump announced the US withdrawal from the Iranian nuclear deal. The move was sharply criticized by Russia, as well as European and other countries. Moscow said that the US leader's decision ultimately shows that the US is, in fact, incapable of conducting negotiations.
Israel, however, was among the few nations that actually praised Trump's decision. Netanyahu called it "brave and correct" immediately after the US president made his announcement. He also denounced the Iranian deal as "a recipe for disaster."
You can share this story on social media: