'Mistake of historic proportions': Trump takes heat from Dems & Republicans for quitting Iran deal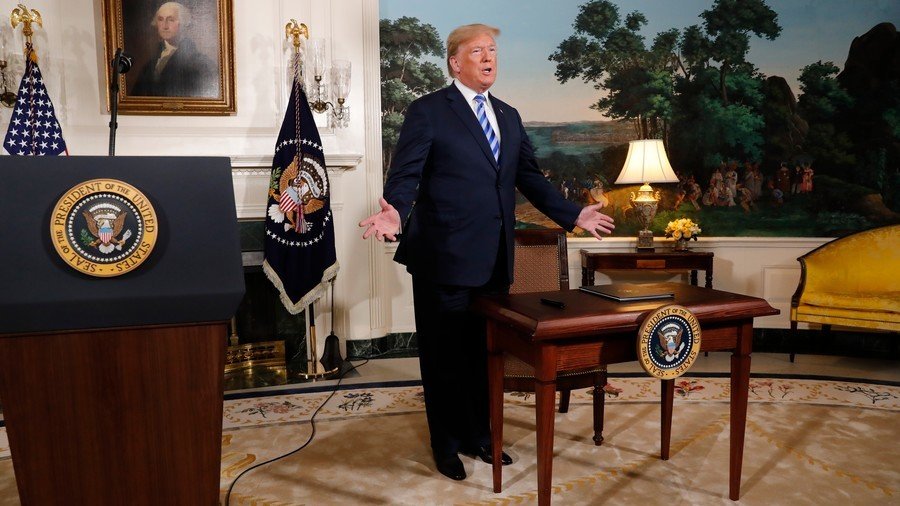 President Donald Trump has come under fire from both his political opponents and fellow Republicans for pulling the US out of the Iran nuclear deal, with lawmakers arguing the move will embolden Iran and make the US less secure.
As the international community is reeling in the aftermath of Trump's decision to tear up the landmark nuclear agreement with Iran, the controversial move did not sit well with US lawmakers at home either. Besides being castigated by Democrats, Trump has puzzled some Republicans, who believe that the withdrawal risks alienating US allies in Europe and adds nothing to American security.
The Senate's second-ranking Democrat, Dick Durbin, went as far as calling the decision a "mistake of historic proportions" that will allow Iran to resume its nuclear program and lead to self-isolation.
"It isolates the United States from the world at a time when we need our allies to come together to address nuclear threats elsewhere, particularly in Korea. This is a mistake of historic proportions," Durbin said in a statement, adding that "the last thing America and the world need right now is a new nuclear threat."
Other lawmakers have also voiced concern that Trump's decision to dismantle the deal, despite vocal opposition from its closest allies, except Israel, will ultimately undermine relations between them.
"With this decision President Trump is risking US national security, recklessly upending foundational partnerships with key U.S. allies in Europe and gambling with Israel's security," Senator Bob Menendez (D- New Jersy), the ranking member of the Senate Foreign Relations Committee, said.
By turning a blind eye to the concerns of Washington's European partners, the US risks losing the support of Europe in implementing any further punitive measures it may devise against Iran, Senator Mark Warner (D-Virginia) noted, saying that the pullout "will only succeed in driving a wedge between us and our allies."
House Minority Leader Nancy Pelosi accused Trump of "abdicating American leadership" for the sake of following through on what she described as a "misguided & uninformed campaign promise to destroy the successful JCPOA," while Senator Tim Kaine (D-Virginia) blamed him for "creating a new nuclear crisis" while the one with North Korea remains unresolved.
"President Trump showed us again today that when he says 'America First,' he actually means 'America alone,'" Kaine said in a statement.
Although many lawmakers agreed that the present agreement with Iran might be flawed, they argued that it does not mean that it should be scrapped altogether.
"This nuclear deal is not perfect, but it is certainly the best existing tool we have to prevent Iran from developing nuclear weapons and avoid a disastrous military conflict in the Middle East," Senator Kamala Harris (D-California) said.
While Republicans mostly sided with Trump, several GOP lawmakers publicly cast doubt on the rationale and timing behind Trump's unilateral action.
Rep. Mac Thornberry (R-Texas), the chairman of the House Armed Services Committee, said that he would rather see America's European allies being given "a few more months to strengthen the deal," while Senator Susan Collins (R-Maine) agreed that the US should have borrowed some more time to "remedy those flaws" together with its European allies.
Another House Armed Services Committee member, Rep. Mike Turner (R-Ohio) called Trump's decision a "mistake" and said that there was no proof that Iran had violated the agreement. In February, the UN atomic watchdog, the International Atomic Energy Agency, reaffirmed Iran's compliance with the deal for the 10th time.
"I just don't think that it's a wise move," Arizona Republican Senator Jeff Flake told CNN, commenting on Trump's decision, adding that it makes the US less reliable in the eyes of both its partners and adversaries.
You can share this story on social media: