'For the sake of Iraq': Bush shoe-thrower running for parliament refuses to exploit 'hero image'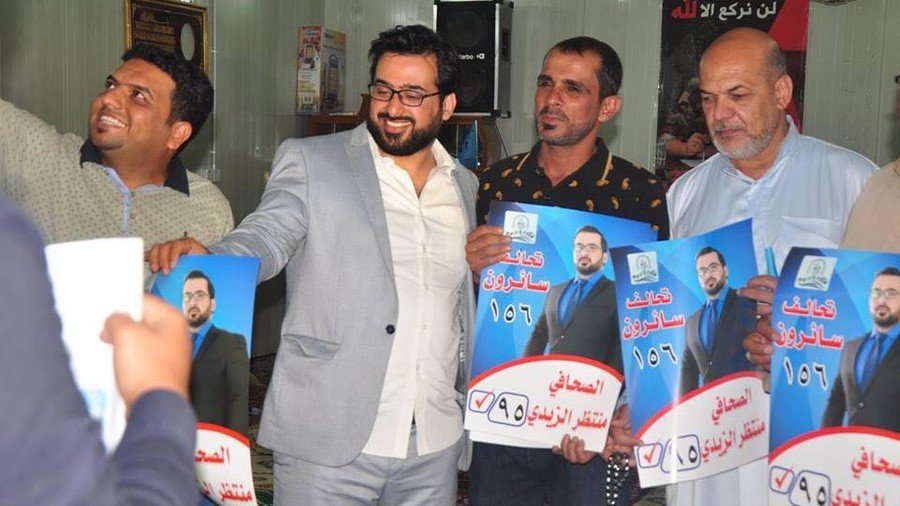 Being a hero to millions of Iraqis for finding the courage to throw his shoes at former US leader George W. Bush, Muntadhar al-Zaidi, who is running for a seat in the Iraqi parliament, says he did it on behalf of an entire nation.
"With regards to the George Bush incident, I did not and will not exploit it. I will not make use of it for the sake of Muntadhar al-Zaidi, it is for the sake of Iraq," the journalist-turned-politician told RT ahead of the country's May 12 parliamentary elections.
Muntadhar al-Zaidi gained worldwide fame after he dared to assault –with an ultimate insult– the then US President George W. Bush, who had come to Iraq five years after the American invasion of the country. During a December 14, 2008, joint press conference in Baghdad with former Iraqi Prime Minister Nouri al-Maliki, al-Zaidi threw both of his shoes at the US leader. In the Middle East it is traditionally considered extremely insulting to hit someone with the bottom of a shoe.
"This is a farewell kiss from the Iraqi people, you dog!" he shouted in Arabic, throwing the first shoe. "This is for the widows and orphans and all those killed in Iraq!" he added, before launching the second.
The four-second incident has made al-Zaidi a hero for those Iraqis who opposed the American invasion of the country. For the 39-year-old journalist, the incident turned into a nightmare. He was immediately subdued and later tortured by the Iraqi security forces, despite massive protests across Iraq and the Arab world calling for his release.
Speaking to RT about his political aspirations ahead of the May 12 parliamentary elections, the journalist noted that the Iraqi authorities, from whom he personally faced "too much" abuse, have failed to change the fate of the country.
"They broke my teeth, my nose, my leg, they electrocuted me, lashed me, they would beat me, they even broke a table or a chair over my back. I don't know, they had my eyes covered," al-Zaidi recalled. "This was one thing I never experienced before. Torture by the authorities, by the rule of law."
In 2009 al-Zaidi was sentenced to three years in jail for assaulting Bush, but the term was later reduced to one year and he was eventually released for good behavior after serving nine months – but was forced into exile. When he eventually returned in February 2011 to "participate in the protests and stay in Iraq," he was again arrested, along with his brother.
"We were left in solitary confinement for three days. We were only released after I went on [hunger] strike during the entire duration of my detention. I went on hunger strike, without water, for three days. I told them I would rather die than stay with you. So they placed us in separate cells, and afterward they released us," he told RT.
But the authorities did not leave him alone, making it impossible for the journalist-activist to find a safe haven in his own country. "If I went to a relative's home, it would get raided. Iraq couldn't contain me anymore. The [Islamic] Dawa Party was controlling the country's security, politics, social life, etc. So I had to return to Lebanon, as a forced exile, against my will," al-Zaidi recalled.
READ MORE: 'I had a tape ready in case they killed me' – Iraqi Bush shoe-thrower to RT
Now, 15 years after the US-led invasion toppled Saddam Hussein and plunged the country into complete chaos, al-Zaidi is running for office in the hope of changing the fate of his nation. Despite his celebrity status, the journalist refuses to use the shoe-throwing incident to his advantage, telling RT that his actions represent the sentiment of the oppressed majority.
"I unequivocally refused to use images of me throwing shoes at George Bush during my campaign. I will never accept this," he told RT. "History recorded that when the Americans invaded Iraq, some Iraqis were on their side, but the Iraqi people beat them with shoes. It won't be said that Muntadhar did it. The name 'Muntadhar' will merge with that of this country. It will be said that the Iraqi people did not approve of this occupation, they resisted it, and they beat them with shoes."
On March 19, 2003, US President George Bush ordered the invasion of Iraq, which has left the nation reeling and in chaos even 15 years later. The US-led invasion resulted in the killing of around 200,000 civilians, according to Iraq Body Count. However, other sources, that take into account indirect deaths linked to the invasion, place the figure at over 500,000 casualties.
While the US formally withdrew all combat troops from Iraq by December 2011, the aftermath of the invasion led to widespread sectarian violence and the rise of Islamic State (IS, formerly ISIS) terrorist group. In 2014 the US-led coalition had to re-deploy its troops and support the Iraqi government's anti-terrorist efforts with airstrikes, with have since killed at least 3,000 more civilians, according to Iraq Body Count estimates.
Like this story? Share it with a friend!
You can share this story on social media: