'I had a tape ready in case they killed me' – Iraqi Bush shoe-thrower to RT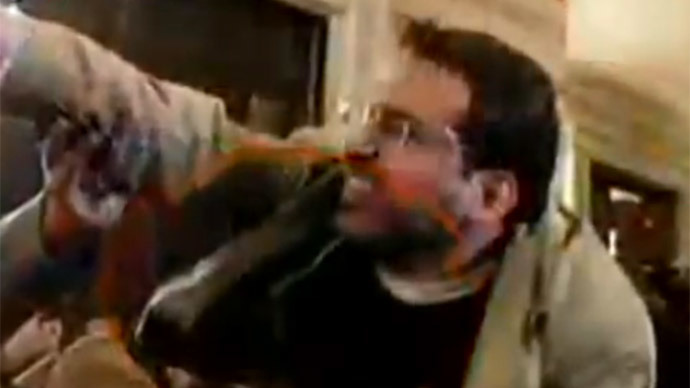 Muntadhar al-Zaidi, the Iraqi journalist who made global headlines for throwing his shoes at US President George W. Bush in 2008, told RT's Anissa Naouai about his famous protest and the torture he faced in its wake.
READ MORE: New evidence Bush misled Americans into Iraq war – senator
In December 2008, al-Zaidi threw his shoes at Bush while the latter was speaking at a press conference at the Prime Minister's Palace in Baghdad. The American president ducked twice as the journalist pelted both shoes at him saying it was "a farewell kiss from the Iraqi people," blaming the US government "for the widows and orphans and all those killed in Iraq!"
Al-Zaidi says he was then "tortured" while being arrested. Eventually, the journalist was sentenced to three years in jail, which was later reduced to one year.
Anissa Naouai:Tell us, why did you do it?
Muntadhar al-Zaidi: I did it because of the lies coming from George Bush, who told audiences that Iraqi citizens received him with roses. I did it also because the killing of more than 1,5 million Iraqis and displacement of more than 5 million, as well as making more than 5 million children orphans and more than 5 million women widows. And all that in addition to the theft of Iraq's national resources, destruction and the splitting up of the country.
AN:So this was not something that you planned…It was an emotional in the moment decision to react?
MZ: On the contrary, this action was planned in advance. Maybe I'm revealing that for the first time to the media. I kept a video tape which would have been published in case of my assassination, but I wasn't killed therefore the video is still in my possession. I have been concealing the video in order to publish it if the American occupation authorities call for the continuation of my legal persecution.
READ MORE: Uncensored CIA torture report demanded by lawyers in Iraq war abuse case
AN:What kind of treatment did you face after you threw the shoe?
MZ: The treatment was cruel. There was beating and whipping. They broke my nose and teeth and leg. They also used electro shocks on me. I received all kinds of torture. I witnessed it with my naked eyes.
AN:How do people react to you in Iraq? Not the government, but the people of the country. Are you seen as some sort of hero?
MZ: I have already said I'm not a hero. But I do represent the feelings of the whole Iraqi people. All Iraqi ethnicities and sections went to the streets to say that all of them are like me, Muntadhar. They support what I did because it represents Iraqis, not another state or someone in outer space. I'm an Iraqi and the demonstrations confirmed my people will fight the US occupation of Iraq.
READ MORE: UK military face damning report into bloody Iraq battle, torture & mutilation
AN:Would you do this again if you had the chance?
MZ: I'm not alone in this world. There will be another like me.
READ MORE: Foreign intervention '100 times more likely' in oil-rich states – study
US intervention in Iraq, which began in 2003 under President Bush, resulted in more than a decade of bloodshed and occupation.The US along with NATO allies launched the military operation under the pretext of disarming Iraq of weapons of mass destruction and ending the dictatorship of Saddam Hussein's government. According to Iraq Body Count, an organization which keeps a public data base of violent deaths resulting from the invasion based on medical records and media reports, approximately 7,500 civilians were killed during the invasion phase alone.
Many believe that the US invasion prompted Iraq to deteriorate into the failed state it is being called today. Among such is former UN Secretary General (1997 – 2006) Kofi Annan who told RT in May that Iraq's current fragile state can be directly linked to the 2003 invasion led by Washington, which did not have a US Security Council mandate.
READ MORE: Iraq turmoil today a consequence of 2003 invasion – ex-UN chief Annan to RT
You can share this story on social media: