Only 4 of Germany's 128 Eurofighter Typhoon jets 'ready for combat' – report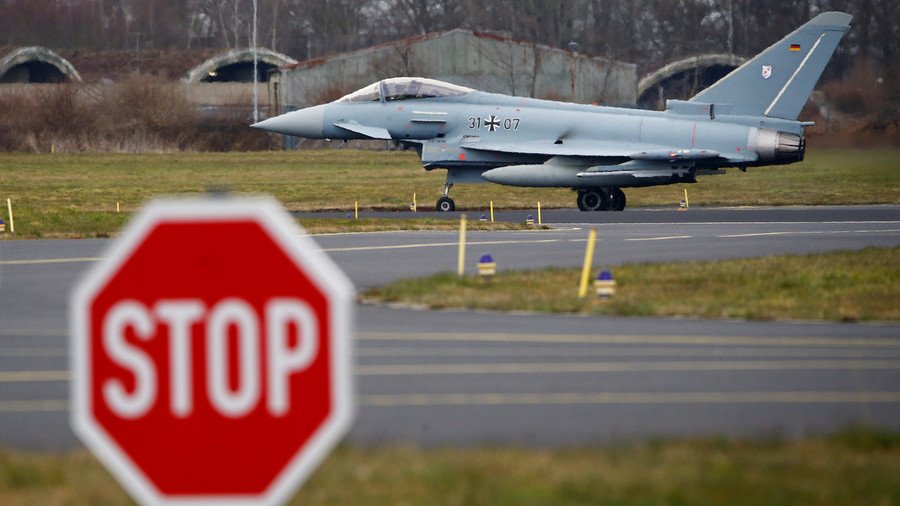 Just four out of 128 Eurofighter jets operated by the German Air Force are ready to fly real combat missions due to dysfunctional self-defense systems and lack of air-to-air missiles, Spiegel magazine has revealed.
Spiegel's Wednesday report said the problem with a critical device installed in the tips of the jet's canard delta wings makes most of German Eurofighters unfit for service.
The device, known as Defensive Aids Sub-System (DASS), is designed to detect a missile attack and warn the pilot of the inbound threat. It also serves as chaff and flare dispenser and has an optional laser warning. About half a year ago, technicians discovered that the device is not properly cooled, causing significant damage to sensitive electronics, Spiegel said.
DASS is said to be a crucial part that ensures the pilot's survival, and it must be active during all flying missions. Therefore, a number of combat-ready jets dropped drastically. In the meantime replacing defective pods proved difficult due to a specific spare part, needed to fix the cooling system, is currently unavailable as the manufacturer has been sold to another company.
This appears to be not the only problem gripping the German Air Force. Eurofighter-compatible air-to-air missiles are also in short supply, the report said. The military is said to be unable to quickly procure the required number of projectiles.
Consequently, only four jets out of the entire Eurofighter fleet are ready to fly combat missions at any time. Notably, it leaves Germany unfit for meeting its NATO obligations, such as carrying out in-flight interceptions.
A spokesman for the German military told Spiegel the combat-readiness statistics for the Eurofighter fleet "looks better than in 2017," but said the exact number of available jets is classified.
The Air Force reportedly lists all Eurofighters that are able to fly as available – even those without functioning DASS devices. While they can be used during military exercises or for training rookie pilots, these jets still can't be considered ready for NATO missions.
Germany has declared 82 Eurofighters for the alliance's High Readiness Forces (HRF) and Forces of Lower Readiness. Contributors are given 90 to 180 days to deploy ready-to-use-jets in case of crisis. However, given that there are no requests for such deployments, the Bundeswehr "can claim they meet all current operational obligations," Spiegel writes.
"We can say with good conscience that most of our troops are ready for use because there are currently no missions," a military source told the magazine.
READ MORE: German Tornado jets can't fly night missions in Syria due to cockpit lighting problem – Bild
This is not the first time German media uncovers a seemingly dire state of the country's military. Earlier in April, it emerged that of the 97 Panavia Tornado jets currently in service, only 10 meet NATO requirements because of several equipment flaws that make it vulnerable and no longer suitable for duty.
In 2016, German contribution to the US-led coalition strikes in Syria came under question when Tornados' cockpit instruments turned out to be too bright for pilots flying night missions in night-vision gear. The fleet was later grounded after monitors in cockpits started losing screws during flights.
Like this story? Share it with a friend!
You can share this story on social media: