'Even gospel is violent': French open letter calling for Koran revisions met with Muslim pushback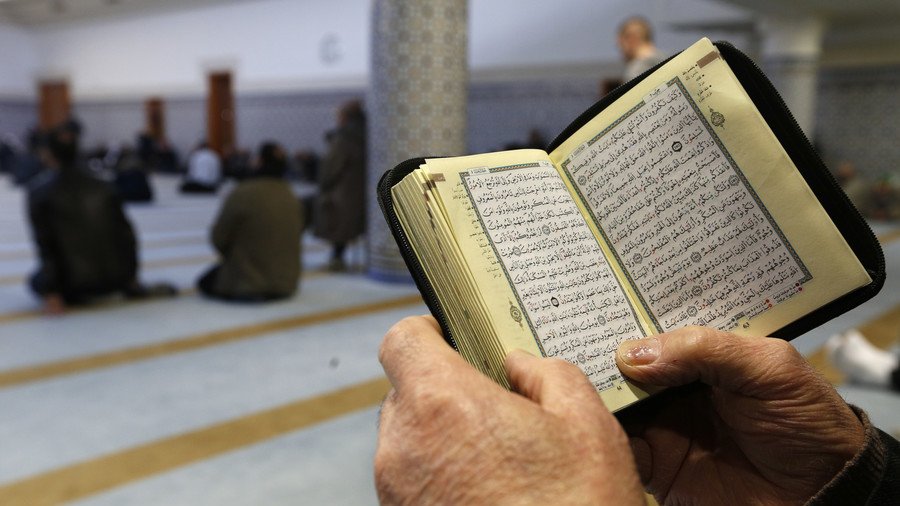 Muslim leaders in France said Islam was being unfairly singled out after an open letter on anti-Semitism blamed Islamic radicals and called for the removal of passages from the Koran that sanction violence against non-believers.
With nearly 300 signatories, including former French President Nicolas Sarkozy and actor Gerard Depardieu, the letter, published on Sunday in Le Parisien, urges Muslim leaders to denounce anti-Jewish and anti-Christian references in the Koran as obsolete and outdated, so "no believer can refer to a holy text to commit a crime." The letter also calls for combating anti-Semitism "before it's too late." It further claims that "Islamic radicalization" has led to a "quiet ethnic purging" in France, resulting in an uptick of violence and intimidation against the country's Jewish community.
Muslim leaders contacted by AFP agreed that anti-Semitism should not be tolerated – but disputed the assertion that Islam was to blame for a string of anti-Semitic attacks that have rocked France.
"The only thing we can agree on is that we must all unite against anti-Semitism," Ahmet Ogras, head of the French Council of the Muslim Faith umbrella group, told AFP.
Dalil Boubakeur, the rector of the Grand Mosque of Paris, said the open letter "subjected French Muslims and French Islam to an unbelievable and unfair trial" while creating "a clear risk of pitching religious communities against one another."
Tareq Oubrou, imam of the Grand Mosque of the southern city of the Bordeaux, told AFP that many holy texts contain antiquated calls to violence, and that it was wrong to single out the Koran.
"Any number of holy texts are violent, even the Gospel," Oubrou said, adding that the letter's signatories had misinterpreted the Koran's message.
One of the letter's signatories, French philosopher and writer Pascal Bruckner, said during a radio interview that the manifesto was not meant "to stigmatize but to spur on the goodwill of reformist Muslims."
Jean-Pierre Chevenement, president of the Foundation of Islam in France, and who served as the minister of defense and the interior, warned that making generalizations about Muslims could be extremely dangerous.
"It's this kind of abusive generalization that is contributing to rising tensions in our society and creating a climate of civil war,"said Chevenement.
The proposal to review the Koran sparked a heated reaction on social media. Some commentators branded the signatories as "ignorant" when it came to Islam, and said that removing certain passages from the Koran equated to removing certain colors from the rainbow.
"In their Manifest Against New Anti-Semitism 300 ignorant people who know nothing about Islam summoned Muslims to denounce certain verses of the Koran. Yet these verses existed when Jews lived in the Land of Islam which was the land of refuge for them," read one of the comments.
"To denounce current forms of anti-Semitism is okay. To decree certain verses of Koran as 'obsolete' is however the same as decreeing certain colors of the rainbow as 'obsolete'," another user added.
The Union of French Jews for Peace also released a statement, protesting against all forms of Islamophobia and denouncing the 300 signatories for not mentioning alleged ethnic cleansing against the Palestinians.
"These people knowingly confuse anti-Zionism with anti-Semitism. They try to make believe that all those who criticize Israel, starting of course with the 'radical left' and the 'Muslims,' are anti-Semites," the UJFP manifest said.
"Anti-Semitism is our intimate story. To attribute it to Muslims is a murderous anti-truth."
The number of anti-Semitic crimes fell seven percent last year, according to the interior ministry. But a number of high-profile attacks – including the brutal murder of an 85-year-old Holocaust survivor, who was stabbed to death and set on fire in her Paris apartment – has led to accusations that radical Islam is fueling anti-Semitic incidents in the country.
The open letter also lambasts the media for its "silence" on the issue, warning that France must take drastic measures to combat anti-Semitism "before it is too late. Before France is no longer France."
With over 500,000 Jews living in the country, France has the largest Jewish community in Europe.
Think your friends would be interested? Share this story!
You can share this story on social media: