Paris to revoke Assad's Legion of Honor, after bombing 'tyrant' holding France's highest decoration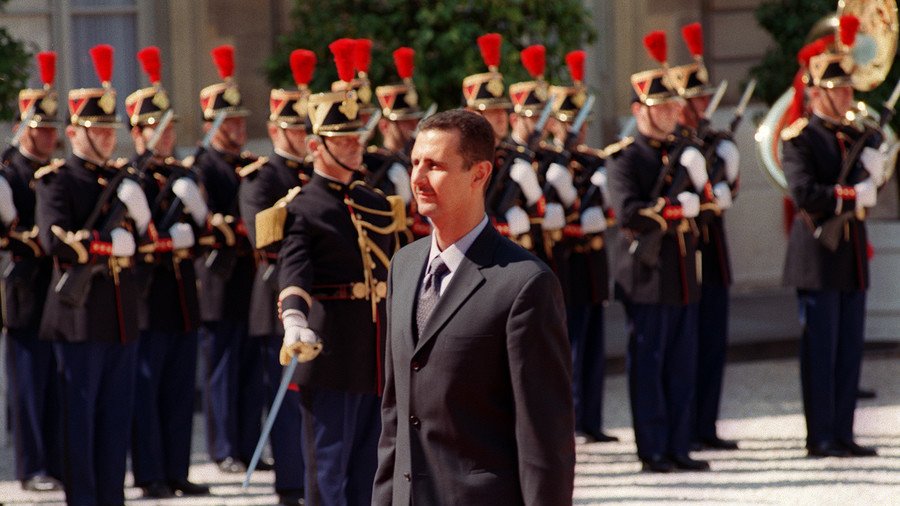 Following its missile strike on Syria, Paris suddenly realized that Bashar Assad is still holding the country's most prestigious Legion of Honor decoration, received in 2001 from Jacques Chirac, local media has revealed.
France has initiated a procedure to revoke the Legion of Honor awarded to Syrian President Bashar Assad, an official of the French presidency told BFM TV broadcaster on Monday evening. "The Elysee [palace] confirms that a disciplinary procedure to withdraw the Legion of Honor of [President] Assad has been launched," the official said.
Assad was made a knight of the Legion of Honor (Legion d'Honneur in French), the country's highest decoration, back in 2001, when he met former French president Jacques Chirac. At that time, he had just succeeded his father Hafez Assad, who had ruled Syria for several decades.
A resolution was adopted in 2010 to make it easier to strip foreign recipients of the award, if they had committed "acts inconsistent with the honor," according to BFM TV. Under French laws, the prestigious decoration is automatically withdrawn if the recipient is sentenced to at least one year in prison.
Previously, France revoked the awards given to American cyclist Lance Armstrong, British designer John Galliano and also Harvey Weinstein, after allegations of sexual harassment by the Hollywood producer surfaced.
The news comes on the heels of the latest missile strikes on Syria, conducted by the United States, Britain and France. The US-led attack hit three targets in Syria, a research center and military bases the coalition said were linked to Damascus' chemical stockpiles, and was launched in response to an alleged chemical attack in Douma on April 7.
French president Emmanuel Macron defended the strike against Syria, conducted without any UN resolution, claiming that Paris was not acting unilaterally and that it was "the international community" that legitimized the military action. "We have complete international legitimacy to act within this framework," Macron asserted in the interview, broadcast by BFM TV, RMC radio and Mediapart. "Three members of the Security Council have intervened."
In a follow-up interview, Macron said he urged his US counterpart Donald Trump to limit the size of the strikes, adding, however, that he persuaded him to keep American troops in Syria for the long-term.
READ MORE: Macron claims he convinced Trump to stay in Syria 'for the long term'
Last year, though, he produced more measured statements on Syria. Speaking to eight European newspapers, Macron argued that there is currently no viable alternative to Assad, who is preventing Syria from turning into a failed state. "I have not stated that Bashar al-Assad's departure is a pre-condition for everything because nobody has shown me a legitimate successor," he maintained at the time.
Think your friends would be interested? Share this story!
You can share this story on social media: